Glee Recap "Silly Love Songs"
Glee-Ful Highlights From Episode "Silly Love Songs"
Consider me head over heels for this week's Valentine's Day-themed episode of Glee. Love is spreading (as is mono) as McKinley High students prepare to celebrate the romance-fueled holiday. The episode hits just the right balance of humor and heartbreak — and OK, I may have even gotten goosebumps due to Rachel's rendition of "Firework."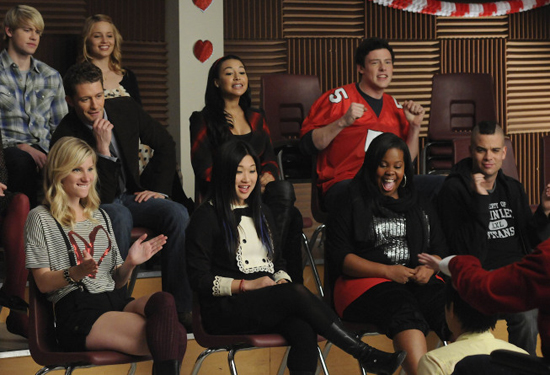 Maybe it's just me, but the episode took me back to those high school feelings of puppy love and loss, so it's hard not to empathize a little as you watch the characters struggle with their emotions. And boy do they. Finn continues to feel conflicted (what else is new?), and Puck forms a surprising crush on one of his fellow club members. Let's review when you
.
Puck has it bad for Lauren. It's quite the abusive relationship, really; she constantly insults him and his tokens of love, while he keeps coming back for more. He really seems to like it when women put him in his place (remember his brief flirtation with Mercedes?).
Speaking of crushing on someone you can't have, Kurt's still making goo-goo eyes at Blaine. So imagine how happy he gets when Blaine reveals that he has secret feelings for someone! I wanted to share in Kurt's excitement, but please, we can all see where this going: Blaine clearly likes someone else.
One person who could actually stand to be knocked back down to Earth is Finn. The football team's recent win has completely gone to his head. To "help" New Directions, he decides to lend his services with a kissing booth to raise money. I'm with Mercedes: this is clearly just a selfish way for Finn to get some (especially from Quinn), and I've got to say I like him better when he's a little more insecure.
Blaine tells the Warblers about his intentions to serenade his new crush at the Gap. Blaine's calling it — wait for it — the "Gap Attack." Kurt suddenly realizes the performance is not intended for him, and he's understandably bummed. In one of my favorite scenes of the night, he relays the story to Rachel and

Mercedes

at a sleepover, as Kurt mutters, "Oh my god, I made the whole thing up in my head, didn't I?" We've all been there, Kurt. We've all been there.
Most awkward performance of the night: Puck singing "Fat Bottomed Girls" to woo Lauren. I agree with her that the song just seemed kind of offensive.
Back at Finn's very Peanuts-esque kissing booth, the love triangle with Rachel and Quinn has reared its ugly head. Finn wants Quinn to kiss him, while Rachel is hoping to win her boy back. When she shows up to get the peck she paid for, it comes out that she still has feelings for Finn. He then gives Rachel her Christmas present, which he's still been holding on to all this time (wait, so he just has "happened" to have it on him?). It's a necklace with a star, and he delivers it saying, "You're a real star, and you need to shine." I nominate this as the cheesiest line of the episode, even though it does make me want them to get back together.
Alright, Lauren! She takes down Santana in the middle of the hallway after she overhears her making snide remarks. It's definitely one of the craziest girl fights I've ever seen on TV. Lauren slams Santana into lockers multiple times. Lima Heights!
After Quinn avoids kissing Finn at his booth, Sam gets suspicious until Quinn agrees to give in for the good of New Directions. But when she locks lips with her ex, both of them see fireworks — literally. Later, Santana notices their weird behavior at practice (particularly Finn's "gassy infant look"), and realizes they're fooling around. To get her revenge, she kisses a kid with mono and then passes it on to Finn . . . who in turn passes it on to Quinn.
Best Gap commercial that's not actually a Gap commercial: the Gap attack! The Warblers invade the store where Blaine's crush works to sing "When I Get You Alone." So cute! But even though it's one of my favorite songs of the evening, Blaine's guy isn't so impressed. Oops, looks like Blaine is just as much of a romantic as Kurt, and he made up the relationship in his head. But there's a bright side to all of it: Kurt tells Blaine about his feelings for him. Blaine responds by saying he doesn't want to screw up their friendship, but could Kurt's When Harry Met Sally reference actually be hinting that these two may end up together after all?
When both Quinn and Finn show up sick to practice, it becomes fairly apparent that the two may have swapped spit — which Santana is all too happy to point out. They go to the nurse's office, where Rachel later shows up, and asks Finn if it's true that he kissed Quinn. He admits it, and tells Rachel he saw fireworks. Rachel asks if he ever saw them when he kissed her, but he doesn't reply. Cue the song "Firework!" Rachel belts out an emotional rendition of the Katy Perry tune. Well done.
Obviously I'm a fan of this episode, but what did you think? Share your comments below or in the Glee Club group in the Buzz Community.
Photo courtesy of Fox