Glee Recap "The Spanish Teacher"
Glee-ful Highlights From Episode "The Spanish Teacher"
Glee goes Latin this week when guest star Ricky Martin stops by to shake it and teach Mr. Schue a thing about Spanish (which, despite being a Spanish teacher, he does not know). A couple more people find out about Finn and Rachel's engagement, though Mercedes and Sam are still far more unclear about their relationship. Sue also announces a highly frightening desire to be a mother while clawing at the chance to be a tenured teacher.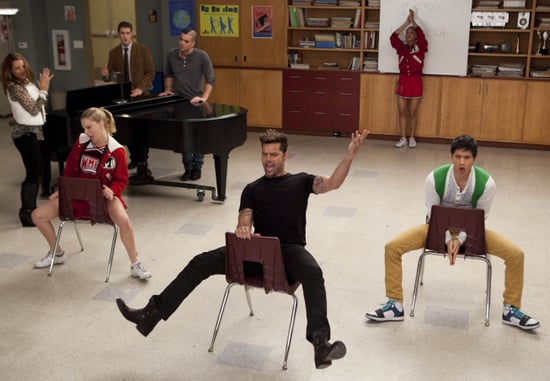 There are some fun numbers this week, but they couldn't distract from the fact that this episode is all over the place. A couple of the subplots are just plain ridiculous, but it's not totally without its highlights, so let's go over them after the jump.
We get to see Mr. Schuester as we so rarely do: teaching. Unfortunately, he's not winning anyone over with his rendition of "La Cucaracha," which doesn't bode well for the tenure he's hoping to gain. To ensure his job security, he decides to improve his Spanish skills by taking an adult education class. The instructor is David Martinez (Martin), a man so dreamy that the glee club collectively swoons when he enters the room. Schue announces that their assignment is to perform a song in Spanish by a Latin artist, and to drive the point home, David busts out "Sexy and I Know It." It'd be almost entirely embarrassing (please never let Finn do body rolls again) if Martin weren't so adorable.
Rachel spills to Mercedes and Kurt about Finn's proposal during a Twilight movie viewing (I'm assuming it's Eclipse based on Mercedes' ability to relate to it), so later, Kurt tries to talk some sense into Finn about making Rachel a child bride. Finn defensively says Rachel is the best thing he has, so Kurt reminds Finn that he's unique in that he's a "hot, straight football player who can sing and sort of dance." Kurt has a point (especially with the "sort of" part), and it actually seems like he gets through to Finn.
Sue's job this week is to be entirely inappropriate. She encourages the high school boys to donate to the sperm bank for her own benefit: she wants it for herself, so she can have a baby. She continues to be gross and grosser (I don't need to hear any more masturbation euphemisms from Sue, ever) when she also propositions Will. Emma confronts Sue about it, but I'm confused about why she's so threatened, since there is obviously no chance Will would ever consider it. Sue then gives a completely uncharacteristic speech about how kind she thinks Will is, and surmises that his answer is no, which Emma all but confirms. It's also strange that Emma thinks it's inappropriate for Sue to ask Will for his sperm, but not a bunch of mostly underage students.
Sam and

Mercedes

seek help from Emma with their problem (they can't stay away from each other). Though Emma's "two-timin' ho" pamphlet is hilarious, it's not helpful. Her advice is for them to refrain from talking to each other in order to clear their heads about what they want. They do it, and when they both find themselves eagerly awaiting the time to speak again, they meet in the hall — but are interrupted by Mercedes's boyfriend Marcus. She walks away with Marcus, but can't help looking back at Sam.
Will crams for his big performance (a Spanish teacher doesn't know how to translate conversation into conversación?!), and goes full matador to impress the students. Santana is appalled, who admits that she was the student who complained about his teaching style. She accuses him of perpetuating stereotypes, and forces him to admit that he only became a Spanish teacher because it was the only job open when he needed one. She reminds him that he once preached to them about being passionate to succeed, which somehow makes him appreciate Emma's creative pamphlets (which is part of a story about jock straps and personal hygiene that I'm too scarred to bring up again).
Might we be seeing Ricky Martin again? Will bows out of his teaching position (and the chance at tenure) and offers the job of Spanish teacher to Dave himself, who's profoundly grateful. Will mentions that he's switching to the history department, and Emma is the faculty member who gets tenure in the end. Sue loses her shot at it, probably because Becky complained that Sue isn't as focused on the Cheerios anymore.
Except for Ricky Martin showing up to be charming (and yes, his teeth are very beautiful), I didn't love this episode. And aside from Kurt telling Finn to reconsider marriage and Will letting go of a teaching job he's not great at, there's also a lot that just doesn't make sense. I do have high hopes for next week's Valentine's Day episode though, and the promise of romance (come on Sam and Mercedes, make it happen!). What did you think of this week's episode?
Photo courtesy of Fox