Glee Recap of "Thanksgiving"
Glee-ful Highlights From Episode "Thanksgiving"
I feel like the season just started, and already it's time for sectionals on Glee! The old crew is back in town and hitting up Breadsticks for the holidays. They're also just in time to lend Finn a hand mentoring his students (thank goodness, too; can you imagine Finn trying to teach choreography?). While the new class is consumed with learning the moves to "Gangnam Style," Kurt and Rachel make an oath to have the best Thanksgiving ever, but they get more than they bargain for when Kurt invites Isabelle over for dinner and she takes the liberty of inviting a large handful of friends.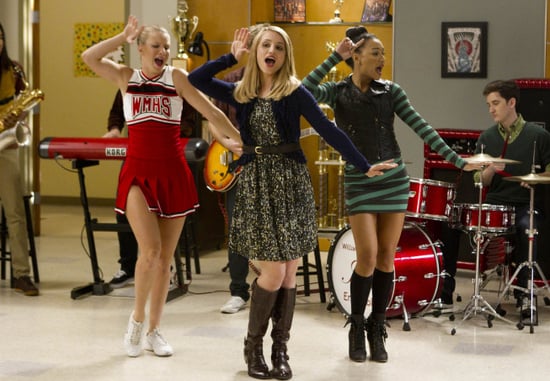 Marley is still struggling with her newfound eating disorder, and its effects become apparent in a major way that puts the Glee Club's reputation in jeopardy. Jake (aka Lil Puck) and Ryder are still vying for her attention, but she's a little too busy getting the spins from food deprivation to notice. I've put together a handy playlist of all the songs from this week's episode and am recounting the highlights of "Thanksgiving" when you read more.
The "Home"/"Homeward Bound" mash-up is genius, particularly for a holiday homecoming episode. I'll be honest: seeing all the students past (minus the New York crowd) join together on the stage makes my heart pretty happy.
While I'm all warm and fuzzy, it takes Quinn and Santana two seconds to bitch-slap each other over the grand piano. Santana finds the laxatives in Marley's bag (snooping: classic Santana) and she confronts Quinn, but Quinn's so blinded by Kitty's glorifying of her that she doesn't believe Santana. Am I on glue, or did they not get over their squabbles ages ago?
Kurt and Blaine are on the path to reconciliation! All right, maybe they're not boyfriend/boyfriend yet, but at least a little bit of the bridge has been rebuilt. Kurt really needs a pick-me-up too; watching Rachel and her slutty (yeah, I said it) man-friend fondle a cold turkey would be enough to drive anyone off the edge of sanity.
At least Kurt and Isabelle are still getting along like two peas in a pod (or two

Marc Jacobs

handbags at a sample sale? What are the kids wearing these days?), so much so that he invites her to Thanksgiving dinner. She, in turn, invites over a ton of drag queens and other fabulous sorts, turning Kurt and Rachel's quiet dinner into a raging loft party/"Kiki" session. I'm not a fan of that song, but I did enjoy the Sex and the City flashback I got watching Sarah Jessica Parker twirl around in the rain.
With a multi-episode arc, the bulimia storyline has to end in a bang. Or, in Marley's case, a thud, as she falls to the ground right at the end of "Gangnam Style." I'm not surprised; physical exertion and vomiting on the regular don't mix well. I do feel bad that it comes to a head in such a public way. She's already so fragile, and this is going to be really bad for her psyche. Hopefully it'll at least be the jolt she needs to realize how unhealthy she's been.
I award a polite golf clap to the performances at sectionals. New Directions rocks "Gangnam Style" — even if Tina's the only one who knows the words — but if I were calling the winner, I'd say the Warblers have it in the bag. They do two songs, and one of them is "Whistle." I mean, you'd have to be crazy not to give them first place after Hunter's sweet backflip. I'd like to see Mike Chang do a backflip in a fitted suit like that.
What's your take on this week's episode? Are you also wondering why sectionals were scheduled for Thanksgiving Day?