Glee Recap "Tina in the Sky With Diamonds"
Glee: The Highlights From "Tina in the Sky With Diamonds"
Glee returned this week with the season's second episode, one that still was void of any Finn references, though we know that next week will be dedicated to him. What we do get is the McKinley prom, which still feels misplaced in an episode airing in October. As the high schoolers campaign for king and queen, Santana has found a new love interest in a coworker (guest star Demi Lovato), and Rachel is preoccupied with the fate of her Broadway career. Will she get the lead role in Funny Girl, or will she be doomed to work at the diner for all her years? The suspense is killing me. Luckily, we get an answer!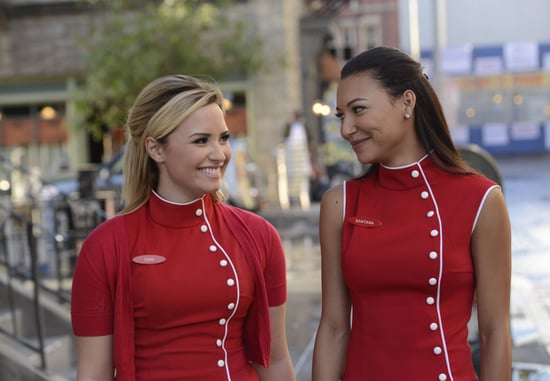 This week marked the conclusion of the Beatles tribute episodes, and the cast sang some favorites from later in the iconic band's catalog. Let's break down what everyone is up to in "Tina in the Sky With Diamonds" after the jump.
First off, there's a new head Cheerio in town: Bree, or the "Chocolate Cheerio," as Sue has dubbed her. When Tina gets elected for prom queen, she makes it her prerogative to take Bree down. We've seen this story before, though, and no, I'm no talking about the shot-for-shot Carrie remake that happens when Tina wins; I'm talking about the fact that Kitty is the new Quinn. Now we've just got one more pretty blonde converted to sensitive glee club member. Bo-ring.
Can we talk about the fact that Bree recites, almost word for word, that viral sorority-girl letter from last Spring? It's pretty entertaining, if a bit old. By the by, who did it better: Bree or Michael Shannon?
All right, we do need to talk about the slushie incident. As soon as that bucket falls down on Tina, I was half sure she would just start laughing, haters be damned! Instead, she starts crying, and the whole club rallies around her, singing "Hey Jude." I hope she carries out revenge on Bree, but with Sue on Bree's side, it's not likely.
Santana continues to be the most amusing member of the New York contingent, scoring the lead in a commercial for yeast infections. In the first 10 minutes of the episode, we hear the words, "I like yeast in my bagel but not in my muffin." Am I watching Glee or Saturday Night Live? I don't care. I love it. That's not all Santana is up to; she catches the eye of Dani (Lovato), a pretty coworker at the diner. They sing a duet of "Here Comes the Sun," and I'm already planning their wedding.
Other action at the diner includes Kurt's first appearance. Turns out he needs a job too, though his uniform isn't as sassy as the girls'. Just when Rachel is losing hope for the lead role in Funny Girl, the casting director (Peter Facinelli) comes in and asks for a cake . . . with a rather long "Congratulations" message written on it. Hooray! Rachel is officially (and somewhat unbelievably) on Broadway!
Time to check in with old Trouty Mouth! Sam has grown out his hair a few inches too long and is fostering a crush on the new college student/school nurse. He even trusts her so much as to let her stick a needle in his butt. Was anyone else wondering if that shot really needed to go in the butt? Why not the arm? He gets her rehired at school after Sue fires her, which is really sweet, since there are only a few weeks left of class.
What's your take on this week's episode?