Glee Recap "A Very Glee Christmas"
Glee-Ful Highlights From Episode "A Very Glee Christmas"
If you needed a holiday pick-me-up this year, then I sincerely hope you caught this week's episode of Glee. In the words of Mr. Schuester, New Directions goes "full Santa" for the festivities, and it's enough to even melt Sue's heart. The episode also serves as the mid-season finale (say bye-bye until the Super Bowl), but there are plenty of songs packed in to hold you over for the next two months.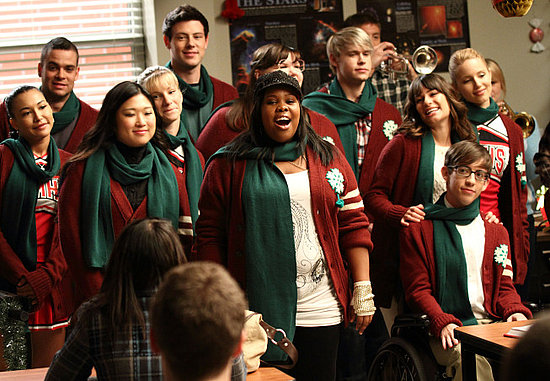 Unlike last year's jaw-dropping sectionals cliffhanger (remember that Will and Emma kiss?), this year's Winter finale has a lot less action but is filled to the brim with the sweet, sentimental moments that Glee is known for — and many a 'tis the season lecture from pretty much everyone. Let's review when you read more.
Brittany and Artie take center stage this week, as Artie stays determined to keep Brittany's unbelievable belief in Santa Claus alive. The club agrees to play along, and Coach Beiste even offers to dress as Santa Claus. Though the premise is obviously ridiculous, it actually pulls in an equal amount of laughs and sappy moments. I loved everything about the Santa's lap montage, particularly Tina asking about Asian Santa. The way the episode turns to make Coach Beiste the true secret Santa is a nice touch as well. (P.S. I'd like Brittany's fully decorated locker for Christmas this year, thanks).
Mr. Schuester gives so many inspirational speeches about the meaning of Christmas this week that I couldn't even count 'em all. My favorite response is when Finn mumbles: "I thought that was Thanksgiving" when Will talks about being grateful for all that happened throughout the year. Touche!
Finn and Rachel have bugged me a lot of this season, but my heart went out to them in this episode. Rachel pulls out all the stops to get Finn to forgive her, from her standard gift of song (a lovely "Merry Christmas, Darling") to stuffing car freshener in her pocket to smell more like an evergreen, but Finn has had enough. The poor guy lets Rachel throw herself at him before he finally lays down the law and "officially" breaks up with her. The upside is that we get a pretty sweet rendition of "Last Christmas" out of them before they finally split for good. At least they'll always have Wham!.
Sue's presence in this week's episode is — you guessed it — the Grinch of McKinley High. First, she rigs the teachers' Secret Santa gift exchange, then she destroys the glee club's tree and gifts for the homeless. Though her demeanor is at her worst, you can't help but giggle at the allusions to Dr. Seuss's story, from Becky the "reindog" to Brittany Lou-Who catching her in the act. (Bonus: it gives Will the chance to whip out his finest insults, like leaving Sue's phone off the hook and his dastardly "Ho ho ho.")
Poor Kurt was just barely squeezed into this episode, but at least he was able to leave a lasting impression. He and Blaine sing a duet to "Baby, It's Cold Outside," and though Kurt laments that they'd never be able to go public with two male parts, I think they killed it. The only way it could have been better is if Blaine had planted a Christmas kiss on Kurt.
Is anyone else getting tired of Sue's "I'm mean for most of this episode, but then I smooth things over in the final act" routine? I know that Glee has always been shticky and this is the Christmas episode after all, but something about Sue saving the day once again felt tired. Uplifting, but tired.
So, did this week's Glee melt your heart like it did mine? Is it enough to hold you over until the end of January? Tell me what you thought of the episode and your favorite songs, or head to the Glee Club to get your own conversations started!