Glee Recap, "Yes/No"
Glee-ful Highlights From Episode "Yes/No"
Glee is back from Winter hiatus and makes a big splash this week with a genuinely awesome episode. It's super cheesy and full of multiple dance numbers and guest stars, which is essentially the recipe for Glee success, and I'll admit it gave me goose bumps more than once.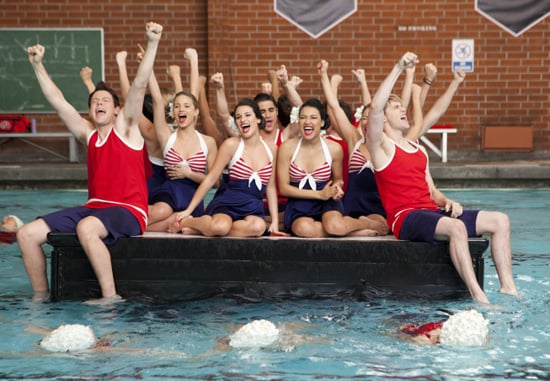 Nearly everyone's emotions and relationships are challenged in this episode: Mercedes is torn between two guys, Will contemplates taking the next step with Emma, and Finn's got big ideas for his future with Rachel. I can't believe how much happened! To get all the details on "Yes/No," just keep reading.
The episode kicks off with some delayed curiosity about

Mercedes

and Sam's fling. In true Glee-style, everyone gets the details as the two channel Grease and sing "Summer Nights." Santana makes a perfect Rizzo character, and obviously, Mercedes's voice never ceases to amaze.
The self-proclaimed "hottest bitch of McKinley" Becky Jackson sets her sights on Artie. There's so much Becky in this episode (which I loved!), and it's only made sweeter by the fact that all of her internal dialogue is voiced by Helen Mirren.
We find out that Coach Beiste eloped over the holiday, and Sue is uncharacteristically supportive. All of this wedding business tugs at Emma's heartstrings; she's worried that Will doesn't want to marry her. She breaks out into a perfectly placed rendition of the 5th Dimension song "Wedding Bell Blues," effortlessly substituting the name "Bill" for "Will." After Mr. Schuester is let in on her wishes, he enlists the help of the glee club to come up with the perfect proposal number that will "knock her well-washed socks off."
After Finn opens up to Mr. Schuester about wanting to follow in his father's footsteps and join the army, he, Miss Pillsbury, Finn's mom, and Kurt's dad all sit him down to tell him the truth about his dad's passing. We learn that he wasn't in fact a war hero and that he actually died from a drug overdose. Finn feels like his world is completely upside-down and finds solace in Rachel.
The New Directions give Artie a "Becky-vention" after seeing them at Breadsticks together. At first, Artie defends Becky and challenges just how open-minded everyone actually is. But soon after, Becky sends him some lewd pictures and Artie realizes he's got to let her down easy. After she's dumped, Sue and Becky spend some really sweet quality time together watching "some Lifetime television for ovaries."
Sam is trying everything he can to win back Mercedes, but she tries to stay loyal to her tough boyfriend Shane. Thinking that she wants an athlete, Sam tries out for the one team that will let him join without trying out: synchronized swimming. The kicker on this one? The coach is played by The Real Housewives of Atlanta's NeNe Leakes, who is surprisingly fierce. I wouldn't mind if she made another appearance.
After Mr. Schuester gets over some unwarranted concerns about Emma's OCD, he comes to his senses. Sam comes up with a big over-the-top idea for Emma's proposal. The glee club enlists the help of the synchronized swim team to perform a big, beautiful rendition of Rihanna's "We Found Love" in the pool. The proposal is absolutely perfect; the routine is so fun and made me remember what I love (and have missed) about Glee. And if that isn't a big enough of a finish for you, the episode ends with an insane cliffhanger — Finn gets down on one knee and actually proposes to Rachel.
Were you as excited for Will and Emma as I was? What do you think Rachel's response to Finn will be? And most importantly, what was your favorite musical number of the night?