Glee Season 3 Finale Recap
Glee-ful Highlights From Season Finale "Goodbye"
We say goodbye to McKinley High's graduating class of 2012 on this week's season finale of Glee, and while we'll be seeing a lot of these characters next year, for some, it was their swan song (pardon the pun). Everyone is feeling nostalgic, not the least of whom is Mr. Schue, who gives the kids an assignment of picking a goodbye song. The episode is mostly devoted to the characters giving each other touching send-offs, which made me feel sentimental too.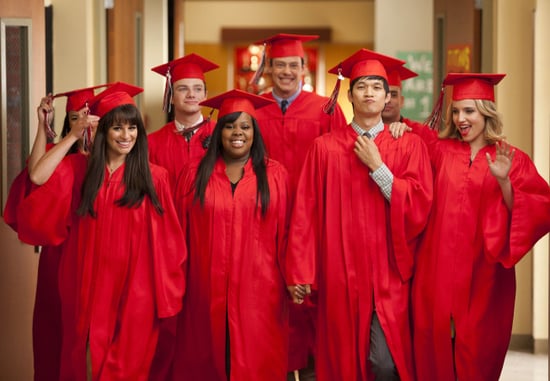 There's a pretty big development at the end of the episode that I was expecting, but it surprised me by how bittersweet it actually is. Ready to break down the highlights of the Glee season finale? Just keep reading.
Kurt gets the best graduation gift ever (his words and, to be fair, mine). His dad shows up at school to give him a graduation gift, picking something he knows Kurt will like: a performance of "Single Ladies." It's an homage to the season one episode where Kurt had stages his own "Single Ladies" show, to his father's dismay. How things have changed! I loved that flashback, as well as when we're reminded of how Will first heard Finn singing in the shower at school . . . it also reminds us of the totally bizarre story of how Will planted pot in Finn's locker to blackmail him into joining the glee club. Finn's not mad; he just thinks Mr. Schue is cooler than he thought. Um, OK.
I like all the songs that the kids pick to say goodbye — "I'll Remember" is lovely, "You Get What You Give" is fun and appropriate — but "In My Life" never fails to make me choke up, and it works here, too. It's always a rarity when a Beatles song pops up on a TV show, and I think it's definitely worth it.
Quinn reflects on her high school experience and, feeling fortunate, decides she wants to help Puck graduate. He has to retake a test, and I know you might be thinking that her help would involve studying, but you would be wrong. No, her tactic is to kiss him. It doesn't make sense to me, either, but it works for Puck, who passes the test so he can graduate. Aside from her unorthodox ideas of tutoring, Quinn gets a lot of compliments from Sue, who tells her that she admires her in a very sweet scene.
Santana changes her mind about going to the cheerleading program in Kentucky when she hears the exciting plans of her classmates (Mercedes is headed to LA, Mike is off to Chicago). She shares her desire to head to New York and be a star with her mom, who we find out is supportive of her relationship with Brittany. Speaking of Brittany, she drops the bomb that she's not going anywhere because she's not graduating (a 0.0 GPA will do that to you). She'll be repeating her senior year, so I guess we'll be seeing plenty of Brittany next season.
When graduation comes, the ceremony is like a wild stage performance, complete with "Glory Days" and screaming (I didn't burst out from behind curtains when my name was called. Is this a thing?). It's exuberant, but their day of glory is cut short when Rachel, Kurt, and Finn open their envelopes to find out if they got into their respective schools. It's a bummer scene, because even though Rachel gets into NYADA, Finn and Kurt get rejected. Rachel decides she wants to defer for a year to help them both get in the next year.
On what's supposed to be their wedding day, Finn doesn't marry Rachel. Instead he takes her to the train station so she'll go to New York and leave him behind. The breakup scene is actually heartbreaking: Finn explains that he's so sure about her but that he wants her be a star so he's setting her free. Finn, meanwhile, says he intends to join the army and clear his father's name. The episode and season closes as we watch Rachel make it to New York, which, heartbroken or not, is exactly where she's supposed to be.
What did you think of the season finale? Were you surprised to find out anyone's post-graduation plans?