Glee Season 4 Finale Recap
Glee-ful Highlights From the Season Finale: "All or Nothing"
Another season of Glee has concluded, ending with more than one big fat question mark. I have to say, I do not have a sense of resolution after watching "All or Nothing." So much has been set up over the past few episodes: Blaine is dead-set on proposing to Kurt, Rachel has her big audition for Funny Girl, and Ryder has been dealing with a mystery computer messenger for months. We get a few answers, but far more questions are left hanging in the air, and a bunch of stuff happens (Regionals) in between that feels like filler. We also bid adieu to one of Glee's originals, a goodbye that prompted my only tears of the evening.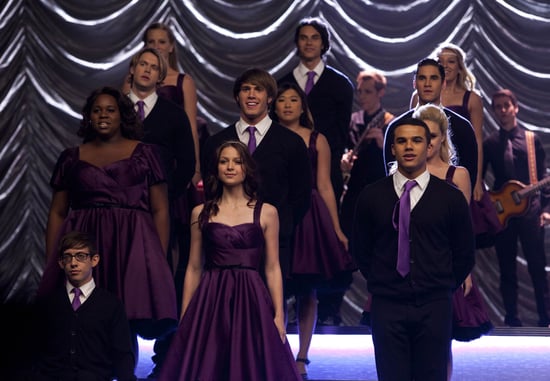 Among all the lukewarm plot points, a surprise wedding takes place! It's the one twist I didn't see coming, but that doesn't necessarily mean it's shocking. Find out more about the season finale of Glee — and get a Spotify playlist of all of this week's songs — after the jump.
Rejoice — Will and Emma finally get married! After all that anxiety-producing buildup to their last wedding, Will and Emma decide the best way to get the job done (without the bride having a panic attack) is to have an impromptu ceremony surrounded by the glee club in the music room. How . . . romantic, I guess? It's a good twist, but Glee hasn't really made Will and Emma's romance a priority for a while, and I'm sorry to say I stopped caring about them as a couple.
After years of being told she's stupid, Brittany is granted early acceptance to MIT. Turns out her numeric doodles aren't mere drawings; they translate to a very specific prime number, heretofore known as "The Brittany Code." Her intelligence, possibly matched only by Albert Einstein, is both a blessing and a curse. She gets to go to school, but MIT wants her to come over immediately. After some serious diva-like acting out and two interventions, Brittany confesses the news to the glee club. She actually gives one of the best goodbyes I've seen on the show, and I really wish she wouldn't leave. What will we do without Lord Tubbington? Side note: Blaine's face when Brittany says she took "boy-next-door" Artie's virginity is my favorite thing ever.
Ryder's "catfish" storyline has been my favorite of the season, but I'm really unsatisfied with the ending. Ryder can't control his insane rage, and he goes all nuts on the glee club, demanding that someone 'fess up to being his online pal. Marley does, but it's totally half-hearted. She's just protecting — wait for it — Unique! Unique was pretty much everyone's first guess, right? I know, lame. Ryder's reaction is pretty gut-wrenching: "I'm not gonna punch you in the face, but I'm also not going to talk to you ever again." He performs in Regionals but promptly quits the glee club. Is this the last we'll see of him?
Rachel is the lone wolf out in New York, and her long-teased audition for Funny Girl is epic. She takes on Celine Dion. Say what you wish, but the girl has serious guts. She nails it; even one of the production assistants is in tears. But guess what? That's all, folks. No follow-up, no cast list, nothing. How is that the only scene we get from Rachel? Such a letdown that her fate is left open-ended.
Blaine's slap-dash proposal to Kurt comes to fruition this week (sort of) when he goes ring shopping and meets an adorable older lady played by guest star Patty Duke. Once he tells her he's going ring shopping for his boyfriend, she takes him aside and asks him if he needs a mentor. Next thing you know, Blaine has dragged Kurt to Breadstix — is this the only game in town? Where are the Sizzlers? — to enjoy an intimate dinner with his new friend and her lady lover. They make it look really fun, but if that were real life, it would be incredibly awkward and we all know it.
Finally, a shout-out to including Icona Pop's "I Love It" in New Directions' Regionals performance. A song that was all but created for Glee to showcase, and it wins them the trophy!
What did you think of the Glee season finale? Was it all you hoped it would be or not at all what you'd imagined?