Glee Season Finale Recap, "New York"
Glee-Ful Highlights From Episode "New York"
After a long season of wishin' and hopin' and thinkin' and prayin', the New Directions finally live out their dream to perform at Nationals in NYC on this week's episode of Glee. Their week in the Big Apple is full of expectations as each of the gleeks has their own ideas about how to experience New York. Of course, there's also the competition to prepare for, and — oops! — they haven't written their songs yet. (Um, seriously, Mr. Schue?)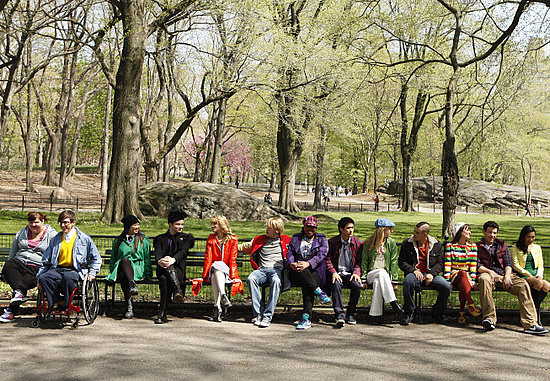 Finn is still doing everything he can to get back into Rachel's good graces, but she's too distracted by the bright lights and big city. Meanwhile, Mr. Schuester has his own business to take care of: he has to decide once and for all if he's going to leave the club for Broadway. Overall it's a sweet, sappy kinda season finale, but the NYC backdrop makes it a fun episode (there's even a couple of surprises along the way). Let's recap when you
.
Glee doesn't get to step outside McKinley High all that often, so I was eating up all of the New York eye candy this week. Rachel definitely exudes a bit of a Dorthy-in-Oz vibe, and for good reason. Madonna's "I Love New York" isn't the Queen of Pop's best track, but watching the kids geek out and frolic around the city makes for a cute scene.
Determined to win Rachel's heart, Finn turns to the guys for advice (because the girls are busy having a pillow fight. Really.). Puck suggests he re-create a romantic comedy-style date, so Finn and Rachel get all gussied up for dinner. It's a sweet scene (even when Patti Lupone interrupts Finn for a cameo), but even the moonlight and Finn's Abba one-liner ("take a chance on me!") aren't enough to get Rachel locking lips with her ex again.
As it turns out, Rachel's got no time for love; she's too busy planning her future in New York. She and Kurt have a heart-to-heart outside of Tiffany's where they both decide to make a break for Manhattan after graduation. Kurt suggests that Rachel bring Finn along, but Rachel doesn't seem convinced.
When Nationals finally arrives, the club has managed to put "My Cup" aside to make room for some pretty good original songs. Just before Rachel and Finn take the stage to duet, Rachel tells Finn about her New York dreams and that she's not willing to give up on her plans, even though she loves him. They sing a love ballad that's charged with emotion — in fact, it's a little too charged: Finn plants a big one on Rachel at the end of the number that leaves the crowd speechless.
Jesse St. James makes a quick appearance (mostly to give Finn a hard time about the kiss), but even a spat with Finn doesn't get much attention, because the Nationals Top 10 are posted. As a viewer, with only 10 minutes left in the episode, I pretty much already knew what Mr. Schuester confirms: the New Directions didn't make the cut. It's a sad moment for the club, but I'm willing to bet the third time (in senior year) will be the charm. Plus, those girls that sang Usher were pret-ty good.
Back at school, we get a quick rundown on how everyone's feeling. Mr. Schuester seems content with his decision to return to McKinley (with his arm around Emma, no less), and Kurt and Blaine drop the L-bomb for the first time. In a rare moment of sagacity, Brittany convinces Santana that another year with the glee club is something to celebrate, rather than harping on the sadness of losing, and the two share a sweet embrace. Of course, the big shocker is that Sam and

Mercedes

are dating! It's not the most obvious pairing (I still kinda miss Quinn and Sam), but at least Mercedes finally gets a man! It's about time.
And of course, the clincher: Rachel and Finn bump into each other in the library, where Finn is beating himself up about kissing Rachel during their duet. Rachel assures him that it was just a crime of passion, and they both admit that they're glad it happened. Rachel tries again to pull away from Finn because of New York, but Finn states what we've all been thinking throughout the whole episode: there's still a whole year left before graduation! As if Rachel had never considered this before, she acquiesces and they get back together. (I have to admit that I did a little dance when they kissed.) The real surprise is that Quinn seems supportive when they see her in the choir room for their meeting.
What are your thoughts on the finale? Are you happy Finn and Rachel kissed and made up? What do you think of Mercedes and Sam as a couple? Let's chat for the last time before Summer hiatus!
Photo courtesy of Fox