Glee Season Four Premiere Recap
Glee-ful Highlights From Season Premiere "The New Rachel"
Glee's season four season premiere title, "The New Rachel," is a clever nod to not only the fact that Rachel is adapting to her New York surroundings, but also at how now that she's gone, McKinley High's gotta find a great soloist. It's just a reminder that a new year has begun, and the times, they are a changin'. This is the first season in which many of the show's original cast members have had to move on, so we've gotten a crop of new characters. You can't hang around your old alma mater forever — just ask Kurt. Even though the stars are (temporarily) gone, this episode recaptured the magic that I felt when I watched the series premiere years ago. It's a fresh start, and I have high hopes for this new beginning for Glee.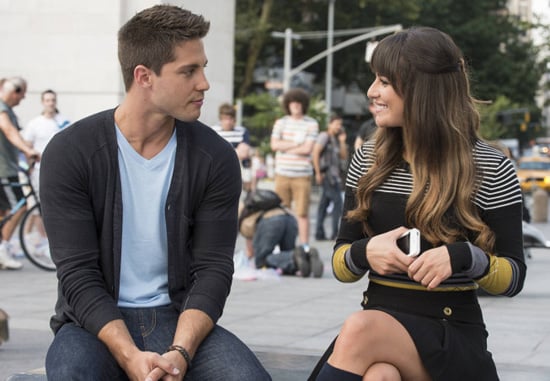 As usual, the new season picks up the Fall after the finale. Rachel is attempting to impress her vicious teacher (Kate Hudson) at NYADA, and the remaining glee-clubbers, fresh off their second Nationals win, are enjoying life at the top of the social ladder. Let's discuss the highlights of the Glee season premiere when you read more.
Rachel has begun her classes at NYADA and is suffering from extreme small-fish-in-a-big-pond syndrome. Her dance teacher, Cassandra July, a drill sergeant who barks inspirational phrases like "If you're not suffering from severe body dysmorphia, then you don't want it enough" is all too familiar with this affliction. Instead of coddling poor, homesick Rachel, she gives her the endearing nickname "Ms. Schwimmer" and tells her she sucks. Boozy Cassandra doesn't yet know that Rachel Berry is no shrinking violet. (Or does she?) I was slightly skeptical about Hudson joining the show, but I love her in the role. Cassandra provides exactly the right dose of big-city reality Rachel needs to elevate her skills from good to great, and Hudson — possibly having maintained some moves from her turn in Nine — really rocks her number.
Luckily for Rachel, she's also made a new friend: Brody, her friendly 3 a.m. bathroom buddy who, get this, sings in the shower just like Finn — only he's more of a Night Ranger guy. It's totally normal that he stalks her around Washington Square Park, where she's sporting an adorable New York Rachel outfit.
Back in Ohio, the glee club is starting the year on a high note. They've been adopted into the popular clique, headed by the new Quinn, cruel cheerleader Kitty. Everyone is enjoying their first week sans slushies in their faces, but they soon discover there's a prerequisite to sitting at the cool table: you gotta be total jerks. Not just sassily mean (à la Santana), but needlessly brutal to third parties like the lunch lady. More about that later.
Now that the club's star singer has moved on, they have to appoint a new player to be featured. Everyone assumes it'll be one of their own, and Artie judges a Thunderdome-style sing-off to "Call Me Maybe" (Blaine wins). But Mr. Schuester holds open auditions, attracting a variety of weird new acts. This brings me to . . .
New characters! It looks like the glee club will have to make room for Marley, the delicate new girl whose audition Mr. Schue deems one of the best he's ever seen. (Um, that's a bit of a stretch.) Then again, anyone would pale in comparison when they're unknowingly entering into a long-distance duet with Rachel, who is in New York singing her tail off to impress her new teacher and fellow students. Marley is not the strongest newbie to me, but I'll give her and her mom (the aforementioned lunch lady) a chance. At least she stays for her whole audition, unlike some Puckerman descendants we know. Puck's secret half brother sort of wants to be in the club, but when Schue interrupts his song (because he knew he wanted him for the club), Jake abruptly leaves, but only after knocking over some stuff on stage. I'm really excited for this budding teen rage storyline.
Everyone is moving on, except for Kurt, who's hanging around McKinley High like some kind of new-generation Screech in Saved by the Bell: The New Class. Even Blaine wants him to move on, singing "It's Time" by Imagine Dragons to punctuate his point. However, it's Kurt's dad who gives him the final shove. I teared up when he shows up by the fountain, finally able to comfort Rachel, who, fed up with a sexually hyperactive roommate and lack of encouragement, has come to her breaking point. I can't wait to see the shoe-box apartment they'll inevitably move into.
One of the things I appreciated about the premiere is how they prioritized, instead of shoving too much into one episode. We get some updates on the graduates and even see a glimpse of Sue's new baby girl, but Finn, Santana, Puck, Mike, and Mercedes are all absent. I have no doubt they'll return, just not quite yet.
How do you feel about the premiere? Do you think Cassandra July has it out for Rachel, or does she just see her potential? Were you also blindsided to hear Tina and Mike are over? What do you think of the newbs? Check out all the songs from the episode below!