Glee Stars Reveal Season Two Spoilers at Comic-Con 2010-07-25 23:01:45
The Glee Kids Keep the Spoilers Coming at Comic-Con
If you don't want to know anything about Glee's second season, then stop reading. But if you're like me, and you're dying to hear about the songs, storylines, and special episodes that are in store, then I have tons to share with you! Amber Riley, Chris Colfer, Jenna Ushkowitz, Kevin McHale, Naya Rivera, Heather Morris, and creator Ryan Murphy appeared at Comic-Con with plenty of insider know-how on what's to come this Fall. Check it out!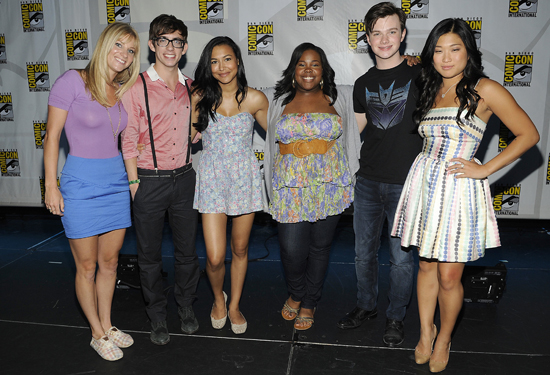 The panel kicked off with a long reel from season one. They captured all of the major highlights: Kurt's "Single Ladies" dance, Sue's relationship with her sister, Brittany one-liners, the Madonna episode, and of course, Mr. Schu's hair. The crowd loved it, cheering for each character as they appeared on screen (especially Kevin McHale — is he the new favorite male on the show?).
The biggest reveal of the panel: there will be a Rocky Horror Picture Show-themed Glee, a tidbit that Murphy let leak after Colfer admitted that he'd love to sing "The Time Warp" in the second season. Murphy also confirmed that there will indeed be another Madonna episode (though he doesn't know when yet). As for the Britney Spears-themed one, he said, "We're doing it in a really fun, hallucinogenic way." He also noted that they're currently trying to lock in a big tribute episode for their post-Super Bowl slot. Regarding guest stars, not only will Kristin Chenoweth be back (which we already knew), but Idina Menzel will return to reprise her role, as well.
For a closer look at season two, just read more.
The show is going in a different direction for the second season, with more of a focus on the secondary characters. "A lot of the people you see up here, the characters pop so much," he explained. "I want to see a whole episode of Brittany, and I want to see more of Artie and Tina. The second season is designed to be a little more intimate."
Murphy revealed that he's currently planning an episode on religion, where Mercedes will take Kurt to her church. The minute he made the announcement, Colfer's eyes widened, and the entire cast burst out laughing.
As for love interests, Murphy reconfirmed the news that Kurt will be getting a boyfriend, but the road ahead doesn't look good for Tina and Artie. The creator said he's working on an episode where Tina falls out of love with Artie and moves on to Mike (aka "Other Asian"). Guess Mike is about to get more screen time!
Different members of the cast shared their favorite songs from the first season: Murphy chose "Vogue," Riley's was "Somebody to Love," and Colfer picked "Bad Romance."
Ushkowitz pretended to be a vampire on the show, but in real life, she's a fan, too: "I'm a Vampire Diaries girl," she told the audience.
Colfer's character Kurt definitely received a lot of love. Several fans approached the mic to declare their appreciation for a gay teen on television, and Colfer admitted that every day he gets thousands of notes thanking him. As for how he's different from Kurt, Colfer explained: "I had no idea who Marc Jacobs was until we shot the pilot! I don't care for 10-inch heels. I am just a huge, huge nerd."
Kurt isn't the only one who has made a large impact on fans. Murphy mentioned that several teachers have expressed their appreciation for Glee's support of arts education; one even told him that her program was in danger, but since the show, the administration won't touch it. "This is a show about why the arts matter," he said. "Hopefully it will help protect arts programs in schools."
Be sure to check out all of my Comic-Con coverage from this year's event!