Glee TV Show Being Made Into a Stage Version
Is Glee Headed Toward a Burnout?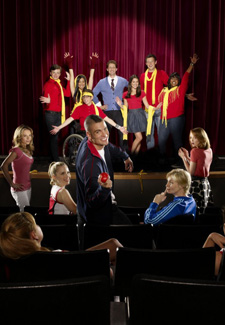 It seems like we can't go a week without at least one piece of Glee-related news. So much so that it's hard to believe that the cast is even "technically" on hiatus! Let's recap: along with a recent stop at Paleyfest, they have an Oprah appearance on the books and a mini-tour lined up. Oh yeah, and the show returns next month. Aren't these kids tired enough already?! Now this morning comes word that the series is in talks for a musical stage adaptation, too.
Now, I'm a Gleek through and through, but I'm starting to fear overkill. I'd hate to see my beloved show hit a fever pitch only to actually lose fans to burnout. It just seems that it's going to be hard to keep up with this precedence of hype — and I would imagine that the actors themselves need a break, too.