Go On TV Show TCA Panel
Matthew Perry Hopes to Re-Create the Magic of Friends With Go On
Matthew Perry is returning to NBC this fall with a new comedy called Go On. The series focuses on Perry as Ryan King, a sports-radio host who's coping with the very recent death of his wife. When his boss insists that Ryan attend grief counseling, he unexpectedly finds solace with a motley crue of characters who range from relatable to downright strange, but they have one thing in common: loss. The pilot is both funny and sweet, and the delicate balance between comedy and drama is part of what attracted Perry to the show. He talked about that dichotomy, Friends, and more at the show's TCA panel this week. Here are highlights: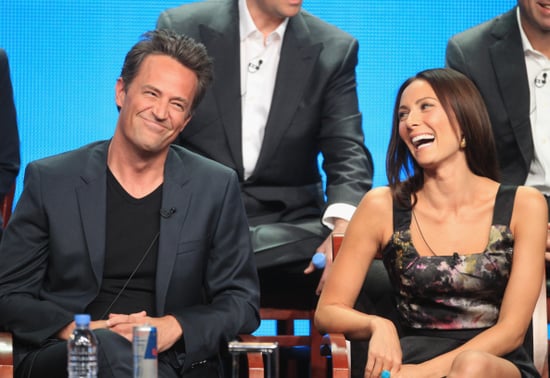 Perry has made several attempts to come to TV with shows like Studio 60 On the Sunset Strip and Mr. Sunshine, but he hasn't had much luck. He's hoping that his character on Go On will have a wider appeal than the guys he played on those shows, saying, "In my efforts to have a TV show, the characters have progressively gotten nicer. This guy is a nicer, more well-intended guy. You certainly want to play a character that people can root for and get behind."
It wouldn't be a press conference with Matthew Perry if the topic of Friends didn't come up, and, of course, Perry had nothing but wonderful things to say about his experience. He said, "It was just great chemistry. It had great writing, it had great directing, and it had really great acting. A little bit of magic happened there. And you never know when or how that's going to happen. You just want to surround yourself with funny, talented people."
Laura Benanti plays the grief counselor of Ryan's support group, and there's definitely some sexual tension between her character and Perry's in the pilot. That said, the writers aren't going to force Ryan into a new relationship too quickly, which reassures some of the doubts I have about the realism of TV shows. Benanti joked about how even though they won't get together anytime soon, "I certainly flirt with him off screen."
John Cho was originally slated to only make a guest appearance in the pilot as Ryan's boss, but once the showrunners saw how well he and Perry worked together, they persuaded him to come aboard full-time. Harold & Kumar fans everywhere, rejoice!
Perry showed off his signature wit when asked the age-old question of what his best role of all time is. He avoided Chandler Bing entirely and said, "It would just be stupid to not say this one [on Go On]. I get to do a bunch of things at one point. I really like doing comedy, and I really like doing drama. It's either this or The Whole Ten Yards."
To see photos from the panel, just read more.