The Goldbergs TV Show Info
Jeff Garlin on The Goldbergs: "All Familes Yell at Each Other!"
An animated Jeff Garlin headed up The Goldbergs' TCA panel this week, talking — and yelling — about the merits of the '80s-set show. He was joined by the cast, including George Segal (Just Shoot Me) and Wendi McLendon-Covey (Bridesmaids), along with producer Adam Goldberg, whose childhood inspired the show. The cast and producers talked about the '80s and how closely the sitcom's story is to Goldberg's real life, and Garlin commented briefly about the possibility of another Curb Your Enthusiasm season.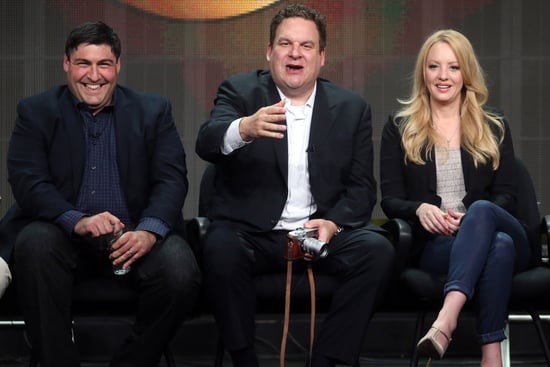 The '80s means bold colors and big hair, which McLendon-Covey was totally on board with: "Growing up in the '80s, I really thought I was hot back then . . . I did more of an open-flower bang and a lioness-windblown thing." On the other hand, she said it was hard to figure out what a mom would wear, so Goldberg helped her out. "My mom never went to the gym, but she was always walking around in workout gear," he said.
Garlin spoke a lot about his trademark move: yelling. As the patriarch of the Goldberg clan, he does a lot of it, and though he actually damaged his vocal cords years ago while recording for WALL-E, he doesn't plan on stopping anytime soon, especially because it's true to family dynamics: "Most families yell at one another, then they play Monopoly . . . Jews and Italians, we love our yelling." He's used to it, though, "When I'm walking with (Curb Your Enthusiasm costar) Susie Essman, people stop us on the street and ask us to yell at them."
Speaking of Curb Your Enthusiasm, Garlin said that he wasn't yet sure if there will be another season. "I'm not trying to figure out Larry David . . . I don't even ask him anymore. I'll get a call, 'Eh, you wanna do more?'" Let's hope he gets that call this year.
The show is loosely based on producer Goldberg's life growing up in the '80s and documenting his family with a giant camera. Sean Giambrone, who plays young Adam, was less impressed by the old-school electronics: "It didn't seem very effective because of how big it was," Giambrone explained. "It wasn't very portable."