Golden Globe Awards Winners Full List 2011-01-16 20:23:17
Announcing the 2011 Golden Globe Winners!
The Social Network strikes again! After a big night at the Critics' Choice Awards, the film's winning streak continued at the Golden Globe Awards, picking up statuettes for director David Fincher, writer Aaron Sorkin, and composer Trent Reznor. It also earned the big title of the night: best picture. Honestly, there weren't a ton of shockers in the film categories, and many of the favorites to win (Natalie Portman, Colin Firth) stepped on stage.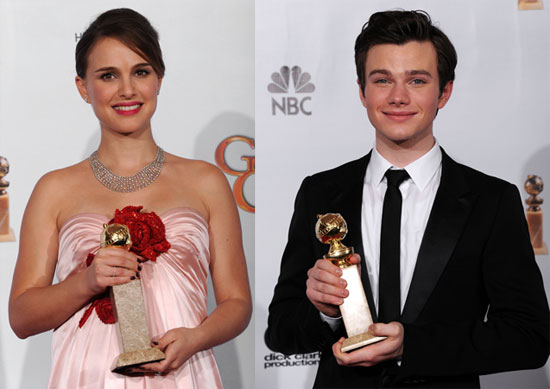 The TV awards, however, were an entirely different story. Boardwalk Empire pulled off quite the upset, beating long-time Golden Globe darling Mad Men for best drama series; Steve Buscemi also came out on top for best actor. As for one of our favorites of the evening, a visibly shaken Chris Colfer won for his supporting role on Glee. Be sure to vote on all of my winner's polls if you haven't yet, then to check out the full list, just read more.
MOVIES
BEST MOTION PICTURE, DRAMA
The Social Network
BEST MOTION PICTURE, MUSICAL OR COMEDY
The Kids Are All Right
BEST DIRECTOR
David Fincher, The Social Network
BEST DRAMATIC ACTOR
Colin Firth, The King's Speech
BEST DRAMATIC ACTRESS
Natalie Portman, Black Swan
BEST ACTOR, COMEDY OR MUSICAL
Paul Giamatti, Barney's Version
BEST ACTRESS, COMEDY OR MUSICAL
Annette Bening, The Kids Are All Right
BEST SUPPORTING ACTOR
Christian Bale, The Fighter
BEST SUPPORTING ACTRESS
Melissa Leo, The Fighter
BEST ANIMATED FILM
Toy Story 3
BEST FOREIGN LANGUAGE PICTURE
In a Better World
BEST SCREENPLAY
Aaron Sorkin, The Social Network
BEST ORIGINAL SCORE
Trent Reznor, The Social Network
BEST SONG
"You Haven't Seen the Last of Me" (Cher), Burlesque
TELEVISION
BEST TV SERIES, DRAMA
Boardwalk Empire
TV SERIES, MUSICAL OR COMEDY
Glee
BEST ACTRESS, TV DRAMA
Katey Sagal, Sons of Anarchy
BEST ACTOR, TV DRAMA
Steve Buscemi, Boardwalk Empire
BEST ACTOR, TV MUSICAL OR COMEDY
Jim Parsons, The Big Bang Theory
BEST ACTRESS, TV MUSICAL OR COMEDY
Laura Linney, The Big C
BEST MINISERIES OR MOTION PICTURE MADE FOR TELEVISION
Carlos
BEST PERFORMANCE BY AN ACTRESS IN A MINISERIES OR A MOTION PICTURE MADE FOR TELEVISION
Claire Danes, Temple Grandin
BEST PERFORMANCE BY AN ACTOR IN A MINISERIES OR A MOTION PICTURE MADE FOR TELEVISION
Al Pacino, You Don't Know Jack
BEST PERFORMANCE BY AN ACTRESS IN A SUPPORTING ROLE IN A SERIES, MINISERIES OR MOTION PICTURE MADE FOR TELEVISION
Jane Lynch, Glee
BEST PERFORMANCE BY AN ACTOR IN A SUPPORTING ROLE IN A SERIES, MINISERIES OR MOTION PICTURE MADE FOR TELEVISION
Chris Colfer, Glee
CECIL B. DEMILLE LIFETIME ACHIEVEMENT AWARD
Robert De Niro