Golden Globe Nominations 2013 Opinions
2013 Golden Globe Nominations: Snap Judgments
This year's Golden Globe nominations have been announced, and we're not only excited to be in the thick of award season, but also for the nominees themselves. We were particularly psyched to see many names from films and performances we loved this year (like Silver Linings Playbook and Django Unchained), but as with every year, there were plenty of nods and snubs that surprised — and even shocked — us. Keep reading to find out our snap judgments of this year's Globe nominations.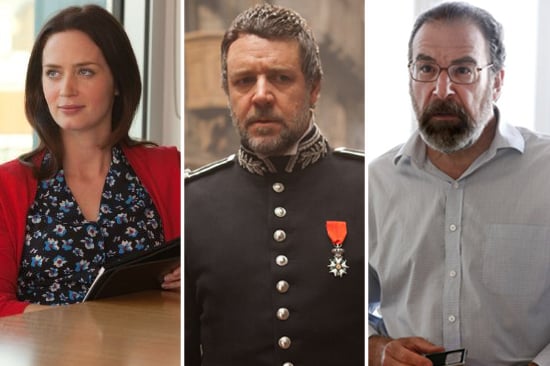 Find out what other nominations had us checking our vision after the jump.
Over on the TV side, there's a glaring omission: Mad Men. Did the HFPA fail to notice that the perennially awarded series came back after being absent for a year? Or that it had one of its best seasons to date? For shame.
Oh, but one series that did make it into TV's best drama category was The Newsroom. The Newsroom?! Congrats to Aaron Sorkin and all, but this series is far from his best work.
Another TV surprise was the inclusion of Smash in the best musical or comedy series category. Its first season hadn't received that much critical love, but mostly, we wonder about the deserving series that could have been in its place, like New Girl or Parks and Recreation.
Obviously, Homeland scored several nominations, but we were so happy to see Mandy Patinkin up for best supporting actor after being shut out at the Emmys. As Claire Danes said, "Mandy Patinkin. Holla."