Golden Globes Ballot 2011
Print Out Your Own Golden Globes Ballot and Follow Along at Home!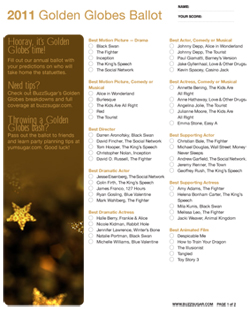 It's official: award season is here, and the Golden Globes are finally upon us. The show airs tonight on NBC, as all of the nominees wait with bated breath to hear their names called to the stage. Here at BuzzSugar, we'll be watching and posting as each of the winners are announced, but it's still not too late to make some last-minute predictions! Just click here to download your own ballot, and fill it out or share it with friends at your viewing party (if you want a few suggestions to help you fill it in, peek at our picks in both the movie and TV categories). Then check back here for our coverage of the night's events. We can't wait!