Golden Globes Ballot 2012
Last Chance: Predict the Golden Globe Winners For a Chance to Win $1,000!
The Golden Globes air Sunday night, and we're making things interesting by giving away $1,000 to the user who can most accurately predict the winners! Time is running out, so get your ballot filled out by nooon Pacific time on Jan. 15 to ensure your chance at the prize!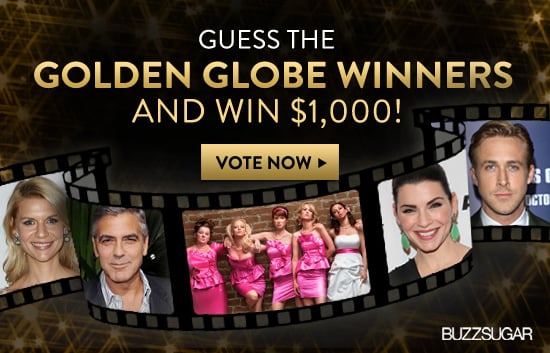 Entering only takes a few minutes:
Step 1: Log into your PopSugar account. If you're not already a member, register now for free. (You need to be logged in before you fill out the ballot).
Step 2: Click here to start filling out your ballot and making your predictions. Choose wisely, because if you accurately predict the highest number of winners, you could be our $1,000 winner!
Sounds simple, doesn't it? So what are you waiting for? Start making your picks and get a little bit richer in 2012!
To see the official rules, click here.