Golden Globes Winners Full List 2012
Announcing the 2012 Golden Globe Winners!
And so we have another Golden Globes under our belt! This year's show brought a new round of quips from host Ricky Gervais, a dedication to Morgan Freeman, and a ton of statuettes honoring 2011's finest in film and on TV. There were a few repeats from the Critics' Choice winners: George Clooney, Octavia Spencer, and Christopher Plummer all picked up two trophies this week. On the other hand, Meryl Streep and The Descendants both won big for the first time this week, proving that it's anybody's game at the SAGs and Oscars.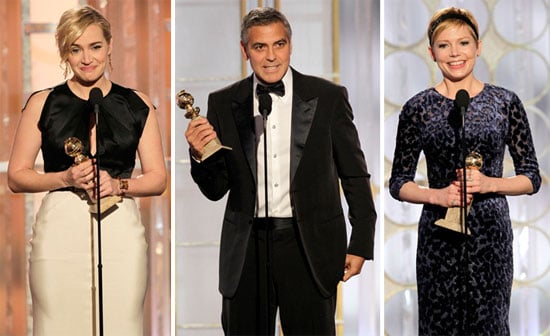 On the TV side of things, new series Homeland was crowned best TV drama, while its star Claire Danes picked up the statuette for best lead actress. Newbies Matt LeBlanc and Laura Dern also took home awards, while Modern Family earned its first ever Golden Globe.
To see the full list of winners, just keep reading.
MOVIES
BEST MOTION PICTURE, DRAMA
The Descendants
BEST MOTION PICTURE, MUSICAL OR COMEDY
The Artist
BEST DIRECTOR
Martin Scorsese, Hugo
BEST DRAMATIC ACTOR
George Clooney, The Descendants
BEST DRAMATIC ACTRESS
Meryl Streep, The Iron Lady
BEST ACTOR, COMEDY OR MUSICAL
Jean Dujardin, The Artist
BEST ACTRESS, COMEDY OR MUSICAL
Michelle Williams, My Week With Marilyn
BEST SUPPORTING ACTOR
Christopher Plummer, Beginners
BEST SUPPORTING ACTRESS
Octavia Spencer, The Help
BEST ANIMATED FILM
The Adventures of Tintin
BEST FOREIGN LANGUAGE PICTURE
A Separation
BEST SCREENPLAY
Woody Allen, Midnight in Paris
BEST ORIGINAL SCORE
The Artist
BEST SONG
"Masterpiece," W.E.
TELEVISION
BEST TV SERIES, DRAMA
Homeland
TV SERIES, MUSICAL OR COMEDY
Modern Family
BEST ACTRESS, TV DRAMA
Claire Danes, Homeland
BEST ACTOR, TV DRAMA
Kelsey Grammer, Boss
BEST ACTOR, TV MUSICAL OR COMEDY
Matt LeBlanc, Episodes
BEST ACTRESS, TV MUSICAL OR COMEDY
Laura Dern, Enlightened
BEST MINISERIES OR MOTION PICTURE MADE FOR TELEVISION
Downton Abbey
BEST PERFORMANCE BY AN ACTRESS IN A MINISERIES OR A MOTION PICTURE MADE FOR TELEVISION
Kate Winslet, Mildred Pierce
BEST PERFORMANCE BY AN ACTOR IN A MINISERIES OR A MOTION PICTURE MADE FOR TELEVISION
Idris Elba, Luther
BEST PERFORMANCE BY AN ACTRESS IN A SUPPORTING ROLE IN A SERIES, MINISERIES OR MOTION PICTURE MADE FOR TELEVISION
Jessica Lange, American Horror Story
BEST PERFORMANCE BY AN ACTOR IN A SUPPORTING ROLE IN A SERIES, MINISERIES OR MOTION PICTURE MADE FOR TELEVISION
Peter Dinklage, Game of Thrones
CECIL B. DEMILLE LIFETIME ACHIEVEMENT AWARD
Morgan Freeman