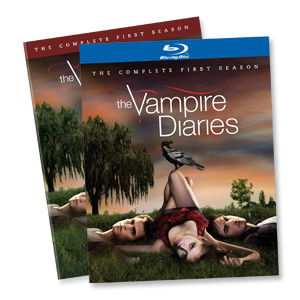 It's the all-American love story, two vampire brothers — one good (Stefan: love him), one evil (Damon: love to hate him) — at war for the beautiful Elena's soul (luckiest girl ever) and for the souls of her friends, family, and all the residents of Mystic Falls, VA. Didn't catch every fang-watering episode of The Vampire Diaries? Well, a good witch must be looking out for you . . .
The complete first season of The Vampire Diaries is now available on Blu-ray™ and DVD. You know what that means? Uninterrupted quality time with your favorite vampire love triangle.
Get the first season on Blu-ray™ and DVD now. Watch. Enjoy. Bring your fangs. And check your necklace of garlic at the door.