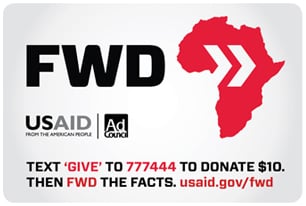 As savvy smartphone users, we're pretty good at all-things mobile, whether it's Googling on the go, catching up with friends, or making reservations on the train. So why not put those texting thumbs to good use? In response to the drought and famine in the Horn of Africa, USAID has teamed up with the Ad Council to help us support the humanitarian organizations and relief operations from the comfort of our cell phones. The campaign is called Famine, War, and Drought or FWD, for the three crises affecting the Horn.
They did their part, now it's our turn to do ours! How? It's simple: text "GIVE"' to 777444 to donate $10 to nonprofit organizations working in the Horn. Easy-peasy.
Already text your donation? You're in good company, the campaign is supported by the likes of Dr. Jill Biden, Uma Thurman, Josh Hartnett, Geena Davis, and Chanel Iman! Go to www.usaid.gov/FWD to learn more, and FWD the facts.