Grammy Interview With Record of the Year Winners Kings of Leon
Grammy Press Room: How Kings of Leon Beat Taylor Swift
This year's Grammy winners may have been fairly expected names (Beyonce, Taylor, Beyonce again), but the ladies didn't get all the glory. Kings of Leon made their own waves, taking home Record of the Year for "Use Somebody." When they came back into the press room to reporters, they revealed just how they outdid some of the biggest names in pop music for the win.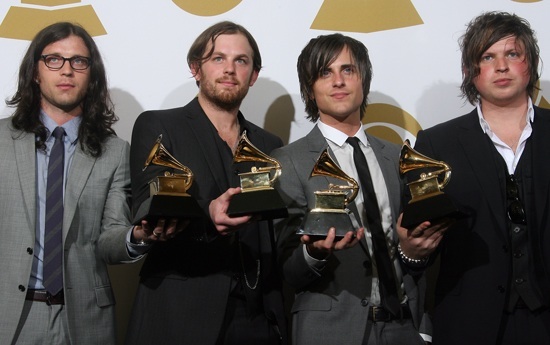 On how they feel about their Grammys: Caleb Followill said, "I think the best thing about winning Grammys is that it's really the first time our family gets to see the success of what we've been doing. Things that have been big everywhere else for a while, now are starting to happen in America. My mom is here, so it's special. We're getting my mom wasted!"
On why they had success overseas first: Nathan Followill said, "I think there's so much music out there, especially in America. You know, in England and in Europe, it's a little more fascinating, our backstory — as opposed to, a fan in Minnesota who really couldn't give a sh*t about three guys from Tennessee that are brothers and have a band with a cousin. But I think overseas they kind of jumped onto the story, and luckily we stuck around long enough for the music to kind of keep us going."
To hear more from the group, including their thoughts on who they might collaborate with next,
.
On who they'd like to collaborate with next:

Caleb: "We would like to collaborate with whoever we're writing the next record with. So I don't know...I'm not big on collaborations, that's a lot of pressure."

Nathan: "I think they're all dead, the ones we'd like to collaborate with."

Caleb: "In fact, we're going to kill them tonight."

On how they beat out all the pop competitors: Nathan said, "Payola. We have a good record label. They have deep pockets."