Grammy Interview With Stephen Colbert, Winner for Best Comedy Album
Grammy Press Room: Stephen Colbert Wants to Sing For You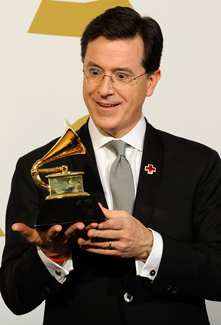 What's a guy like Stephen Colbert doing mingling with T-Pain, Jay-Z, and Lady Gaga? The comedian and TV host won Best Comedy Album for A Colbert Christmas: The Greatest Gift of All at this year's Grammys, and also presented the first award of the night — much to the chagrin of his daughter in the crowd.
As to be expected, the funny man provided reporters with plenty of wisecracks about his win (and Lady Gaga) and even shared his favorite bands. Turns out, he's actually pretty cool after all.
On how he feels about winning a Grammy: "It feels fantastic. It feels — I was born for the Grammys. It feels natural. My daughter says I'm finally cool; it''ll probably last until we land in New York."
On if he were nervous about presenting: "I wish it had been the opening number. I would have loved to have sung while I was out there. [Breaks into 'Don't Rain on my Parade'] 'Don't tell me how to live!' Um, just going out there and telling jokes was a ton of fun. I was a little nervous, because it's not exactly, you know, a 500-seat comedy club."
On his music guilty pleasure: "Randy Travis, 'Forever and Ever Amen.' That song, my wife won't be around me when I listen to it, because I start crying. I cry easily."
For more of Stephen's musings,
.
On his thoughts on Lady Gaga: "She's fantastic, she's fantastic. I can't wait for the next outfit. They're just going to spray her down with glue and run her through a Build-a-Bear workshop."
On his favorite music: "I really like this band, they're not together anymore, but Neutral Milk Hotel. That's a great band. I also like classic rock. My daughter just turns me on to whatever she listens to at the time."
On if he'll sing for an album: "Hell, yeah! If somebody will put up with me singing, you bet, because I'm a big fan of me."