Grey's Anatomy "Migration" Recap
Grey's Anatomy Rundown, "Migration"
Usually it's the season finales of Grey's Anatomy that leave us in the lurch, but this week's episode has its very own jaw-dropping cliffhanger. As the residents scramble to figure out whether they will stay in Seattle or move on to greener pastures, every character on the show has something to ruminate on. The party line this week comes from Dr. Webber, who says, "Make sure your ringer's on," as each phone call is another potential career offer.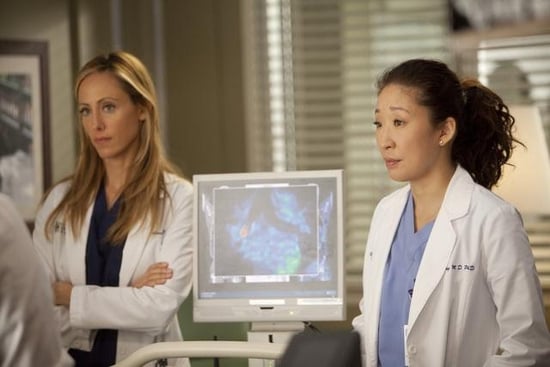 There are major life changes afoot for the doctors who are staying put too. Mark is at a standstill trying to decide between Lexie and Julia, Owen's love life hangs in the balance as Cristina makes plans, and Bailey is shocked not once but twice by news from Ben. Whatever happens this week, the season finale promises to shake everything up, so basically, all bets are off. Let's get into the nitty-gritty when you read more.
April and Jackson (or should I say Apes and Jack-man?) haven't really discussed their relationship status, though it's not for a lack of trying on Jackson's part. April's too busy drowning her sorrows and taking one brutal phone call after another from hospitals that no longer want her now that she's failed the boards. It's impossible not to feel sorry for her as the rest of the doctors are crowing about their futures, but Owen lays down the biggest blow of all: he tells her that she's no longer welcome at Seattle Grace, which was her last resort. I don't see how they can keep her around next year, unless she pulls off some sort of miraculous feat of strength in the season finale.
Derek's dream house is finally complete, but he's fully ready to put it on the market and get out of town. Though Meredith's waffling about accepting her offer in Boston, Derek's all but packed his bags. Though Meredith uses Lexie as an excuse, it's clear that the real reason she won't commit to leaving is because she wants to be close to Cristina. Derek's absolutely right when he gently tells Meredith that he's the person she should be consulting, not her best friend, but Cristina really drives the point home when she says that Owen, not Meredith, is her "person." Kind of feels like the ending of a Mere and Cristina era, doesn't it?
Speaking of Cristina, she's doing some major backpedaling with Owen now that she's passed her boards. She crawls into bed with him after a drunken night, only to come to her senses and walk out the door minutes later. Later, she gives in to desire and puts the moves on Owen in one of the break rooms, only to burst his happy bubble minutes after by telling him that she's planing on going to Mayo.
Ben has an adorable day of fun planned with Bailey, complete with an amazing-looking breakfast that includes orange juice and croissants. But Bailey is Bailey, and she blows off his schedule of crossword puzzles and sightseeing in favor of going in to work on her day off. Ben goes along with her, but he can't hide his resentment about Bailey choosing to work rather than spend time with him. Bailey's irritated by his constant mentioning of the crossword puzzle and makes a big show of acquiescing and snatching it out of his hands right there in the OR. As soon as I realized what was about to happen, I cringed right along with Derek and Ben: Ben made a special crossword puzzle to ask Bailey to marry him, and Bailey completely destroys the moment. She tries to make it up to him with lingerie and a do-over, but the circumstances have changed just hours later: Ben has gotten a job offer in LA. Ben and Bailey's relationship has been on the upswing, so I can't imagine she'd dump him again. But a Grey's Anatomy without Bailey? Say it ain't so.
Karev thought that his outburst during his boards would be the bane of his career, but it actually had the opposite effect. His test administrators are actually impressed with him and create a new Fellowship position just for him. Karev is floored by the fact that he's so in-demand, and it's actually pretty sweet to see him so surprised instead of egotistical. Webber teaches him to play hardball with both Seattle Grace and Hopkins, but Karev eventually decides to go with Hopkins, which pisses Arizona right off.
Mark admits to Derek that Lexie confessed her feelings for him but also reveals that he responded to her with the ever-popular "Thank you for your candor." He says he doesn't want to be a cheater and wants to make the right decision this time around. I really hope the writers are just building us up to an epic finale reunion, because this wait is really starting to get old.
Of course, the real kicker happens in the final moments of the episode, when it goes from Grey's Anatomy to Lost in the blink of an eye. Most of the doctors are on a plane to Boise, which inexplicably crashes in the middle of the woods, leaving many of the doctors strewn on the ground. It's setting the groundwork for what looks to be yet another heart-wrenching season finale, which promises that one of the doctors won't make it out alive. We already know that most of the principal actors have renewed their contracts, but Lexie and Mark are definitely still in the lurch, as well as Callie and Arizona. And come to think of it, there was that big speech between Callie and Arizona about never leaving each other. Who do you think will die? And who will you miss the most?