Grey's Anatomy Recap, "If/Then"
Grey's Anatomy Rundown, "If/Then"
Last year we had the Grey's Anatomy musical episode, and this season it's the alternate-reality episode. That's right: as Meredith ponders on the veracity of the phrase "meant to be," we get to see what could have been — or in this case, what was always destined to be. Though this is a filler episode if I ever saw one, it's still pretty fun to see the characters go down different paths (well, except for Jackson, who pretty much stays the same).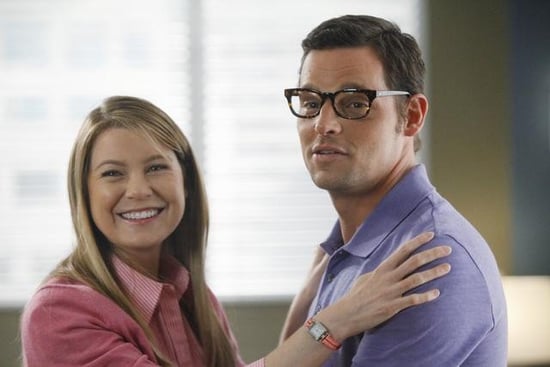 What we're treated to is a preppy-pink Meredith, a geeky Karev, and an even edgier Yang just to name a few. There are also plenty of shout-outs to characters from past seasons, like Izzie, George, and Burke. Ready to break down all of the differences? Just read more.
One of real-life Meredith's biggest questions is what could have been if she'd had a happy childhood, and that's the jumping-off point here. In the alternate universe, Mere is brought up by her mother and Dr. Webber (she even calls him "Dad"), and as a result, she's positively sunshine-y. She's also sort of spineless, needing to depend on mommy dearest to help her wrestle surgeries away from Cristina, who, of course, isn't her "person" here, because Cristina is too dark for her to relate to. So who is her crutch? Why, that job is now being filled by April, who is dating Charles Percy! Remember him?
One of the few dudes Meredith has never hooked up with on Grey's is Alex, so he's her perfect suitor in the alt-world. He's also nerdy-nice (complete with hipster glasses) and claims that Meredith has changed his bad-boy ways. If there's one lesson in the alt-world, though, it's that people are who they are no matter what. For Alex, we learn this thanks to his illicit affair with April — who is still claiming to be a virgin! I know that Alex and April have already had a romantic tryst in the real world, but do you think this is a hint that they'll get back together?
The biggest surprise coupling isn't even Meredith and Alex, though: it's Callie and Owen! They're married with a trio of cute kids, though there's plenty of trouble in paradise. Owen's grappling with his PTSD (with some help from his "buddy" Teddy, heh), and Cristina is the only one who's privy to his frequent outbursts. Meanwhile, Callie clearly makes eyes at Arizona throughout the episode, even inquiring about Arizona's lunch date.
Bailey gets a serious alt-makeover, and it's all because of Ellis Grey? At least it seems that way, as the usually confident Bailey has been replaced with a meek, self-questioning woman with long braided hair. Webber is still in her corner to a certain extent, but without him as Chief, she's unable to come into her own and shine the way she does in the real world.
Lexie also has a jarring makeover in the alt-world: what Meredith gained from a happy childhood is Lexie's loss. We learn that Thatcher committed suicide, and combined with her mother's death, Lexie is driven to cocaine addiction, dreadlocks, and a plethora of tattoos. She still makes a connection with Jackson, who cares for her in the hospital, but it's Mark who becomes her knight in shining armor when he finds her after she escapes from the hospital. Symbolism here? I think so.
However, Mark isn't exactly unattached. Though he's mostly out of sight for this episode, he's part of a big twist at the end. Derek and Addison are still together in the alt-world, but it's made Derek into "McDreary." Though Addison is pregnant, it's clear that these two aren't in a blissful relationship. To that regard, it's kind of a relief when we learn that Addison's baby is actually Mark's, which leaves Derek to — wait for it — have drinks with a scorned Meredith at the bar. In a throwback to the series pilot, they share some tequila (and maybe more, from what I inferred.)
Did you have fun with this week's episode or did you miss the regular Grey's world? Which character's new life surprised you the most? Weigh in!