Grey's Anatomy Recap, "All You Need Is Love"
Grey's Anatomy Rundown, "All You Need Is Love"
It's Valentine's Day in Seattle, which means the doctors are scrambling to get their romantic plans together on this week's episode of Grey's Anatomy. Callie plans a special surprise for skeptical Arizona, while Mark tries to get out of babysitting duty so he can take Julia out on a date. Derek and Meredith, on the other hand, just need to find somewhere to go for a little, uh, "alone time."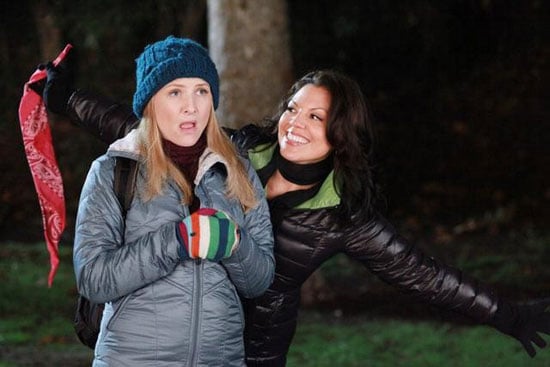 On the other end of the spectrum, Lexie is having a "woe is me" moment as she pines for Mark, and Jackson and Karev are also left dateless. No one's in hotter water than Owen is, though: he and Cristina contemplate some big questions about the future of their relationship, and Teddy has some choice words for him when Owen tries to rekindle their friendship. Ready to break it all down? Just read more.
Everything is hunky dory in Mere/Der land now that they've got Zola back, except for one problem: they can't have sex with Zola in their bed. This shouldn't be an issue for a couple living in a huge house, but they're thwarted at every turn, often by Lexie, who seems to be staying up into the wee hours watching surgical procedures on TV. Lucky for them, they wrangle Lexie into babysitting for Valentine's Day so they can finally get it on without complication.
As for Little Grey, when she's not whining about her sad, empty life, she's blatantly pining for Mark. When Mark gets candid about his V-Day plans with Julia, Lexie tries to save face and says she has a hot date. To make matters worse, Mark and Jackson's new BFFship just puts her in an even more awkward position, both in and out of the hospital. After a sweet moment with Mark over a box of chocolates, she finally gets the courage to tell him how she feels, but Jackson's at the apartment making a romantic steak dinner for Mark in exchange for some study help. I firmly believe that these two are going to end up together, but the Grey's writers sure are making us sweat it out.
There isn't much drama for Callie and Arizona this week, other than Callie's very sweet romantic surprise. When she tells Arizona to pack warm clothes, Arizona assumes a camping trip is in store and starts panicking. It's not until she sees the interior of Derek's trailer — which Callie has borrowed for the night — that she realizes that they won't be sleeping under the stars. On a side note: why haven't Meredith and Derek thought of using the trailer for their own conveniences?
Owen and Cristina are still on shaky ground after their epic fight at Zola's birthday party, and the tension is palpable. I cringed for Cristina when Owen saves her from getting run down by the runaway van but doesn't so much as give her a hug after he pushes her out of harm's way. It seems to be a breaking point for the couple, and shortly afterwards, Owen tells a shaken Cristina he's moving out.
As if his relationship troubles aren't enough, Owen also gets an earful from Teddy. He turns to his old friend for comfort, asking Teddy if they can make amends over drinks, but Teddy is nowhere near ready to be chums again. In fact, she tells Owen that she hates him and will never forgive him for putting the hospital ahead of her needs when Henry passed away. She drives the point home by telling Owen not to address her unless it's work-related. Ouch — and for a second there, I thought maybe these two could rekindle their old flame with Cristina slowly fading out of the picture for Owen. Owen and Cristina do share a moment at the end of the episode, but do you think their relationship can ever bounce back?
Did you fall in love with this loved-up episode? Do you think it's only a matter of time before Mark breaks up with his new lady for Lexie? Let's discuss in the comments!