Grey's Anatomy Recap "These Arms of Mine"
Grey's Anatomy Rundown, "These Arms of Mine"
Grey's Anatomy takes a break this week to give you a very special program called Seattle Medical: Road to Recovery. That's right, the show goes documentary-style to give us a new take on how the doctors are doing after the shooting.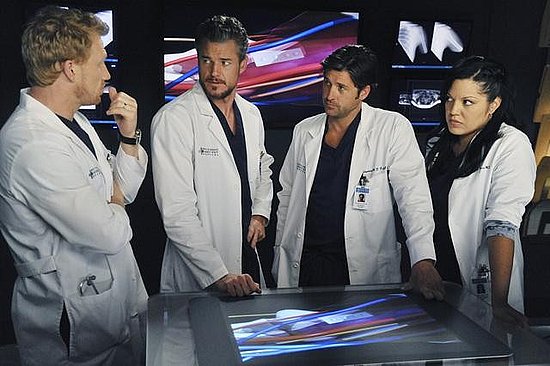 As expected, the episode has a bit of a different feel. Don't get me wrong: it's still high on drama, only this time a lot of it takes place behind closed doors. Plus, we see how the surgeons put on a show for the cameras (or don't), and get a new angle on their patients, including the return of Mandy Moore. The episode manages to really pull on the heartstrings by the end, so to start the discussion just read more.
Despite Cristina's recent strides, she's still specializing in "knowing when to get out of the way." On camera, both she and Meredith try to cover up her recent issues, but the footage clearly shows Cristina avoiding the OR and opting to take catnaps instead. Eventually, in a one-on-one interview, Cristina can't stand Meredith referring to her as a hero. As the episode closes, Cristina quips "being a hero has its price." Clearly, Cristina is paying that price, and for the first time she seems to be directly appointing blame to the shooting for her recent lack of confidence.
I tried to envision what it would be like if this week's episode were a real documentary, and I have to admit it: I think I'd be a little weirded out by all the inter-hospital incest. As a devoted Grey's viewer you learn to take it all with a grain of salt, but would a real life Chief of Neuroscience tell a camera crew that his wife and another surgeon sometimes share his bed since they're BFF? I don't think so.
Of course, the chief is all about putting on the best face for the cameras to help get Seattle Grace back to number one. In addition to tossing out words like "resilience" and "recovery," the chief also shows off the hospital's fancy new security system. Unfortunately, the system proves to be a lot more trouble than it's worth, and by the end of the four-week period, it's already being removed.
Speaking of the security malfunction, Jackson has a meltdown when a false alarm (caused by a frustrated Lexie) leaves him locked between two doors with a patient in need. Though Teddy tries to coach him through it, he clearly loses it, and the footage later shows him kicking some equipment out of the way. He's been pretty touch-and-go all season, but this is the first time that Jackson addresses the loss of two of his close friends, (a matter I had actually forgotten about since Percy and Reid weren't beloved characters to the audience). It's been sad watching Jackson struggle, but it's also an interesting contrast to Cristina's paralysis, since Jackson seems determined to keep trying no matter how many times he fails.
It's a "softer side of Karev" kinda episode, as he spends most of his time building a trachea for a patient and singing songs to her from her iPod. No major strides with Alex, but it's always nice to get a break from his jerk moments. Bonus: how adorable is it when Lily brings him in to her class for show and tell?
The one major plot development of the episode is wrapped up in Arizona and Callie. After weeks of petty relationship problems, the ladies hit a huge roadblock when Arizona is offered a fellowship in Africa. Their fighting takes place behind closed doors (how different from a typical Grey's episode!) but all's well that ends well: Callie decides to follow her overseas! Now here's the real question: how long will the ladies be gone from the show? I'm hoping not too long, since these two remain a few of the only doctors who made it out of the shooting emotionally unscathed.
What are your thoughts on the episode? Did you like the one-week makeover? Let's dish, and be sure to check out the Grey's Anatomy Junkies group as well!