Grey's Anatomy Recap, "Beautiful Doom"
Grey's Anatomy Rundown, "Beautiful Doom"
It's all about Meredith and Cristina on Grey's Anatomy this week, as the rest of the doctors take a backseat to the BFFs. As we've seen since the beginning of the season, Mer and Cristina are in pretty constant contact, and this week their lives align as they are both focusing on saving one patient in particular. The similarities pretty much end there, though, since Meredith is also juggling being a working mom while Cristina's biggest problem is playing mediator between Dr. Parker and Dr. Thomas.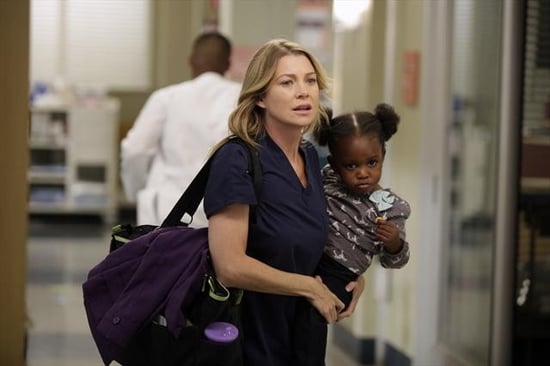 The side-by-side stories meander a bit until the episode lands on an explosive (and unexpected) note that causes Cristina to make yet another major life change. I liked getting inside Cristina's brain a little more than usual, but I admit that I missed my weekly fill of drama from the other doctors. (This is the first time in weeks we've heard nothing of Jackson and April's insatiable libidos!) To go over what did go down, just
.
Remember dark and twisty Meredith? Well, she's long gone, and in her place we've got Mommy Meredith. We're talking potty training, baby talk, the works — but it all almost falls apart when work gets in the way. Mer becomes dedicated to a patient that she saves after a car accident, leaving the rest of the interns to tag team watching Zola. I love that she's now in a position of power to make the interns do her dirty work, and I'm also a fan of her newfound connection to Bailey as a working mom.
How awkward is Cristina's "sex friend" relationship with Parker? Not only do they have zero chemistry, but also, the fact that he even suggests spooning shows how little he understands her. Unfortunately, the only person in Minnesota who does understand her is Dr. Thomas, and Parker is hellbent on making sure that Thomas is forced into retirement. Cristina is awkwardly put in the middle of their spat (Meredith even suggests that Cristina use sex to convince Parker to keep Thomas on), but ultimately the decision is sadly left to fate.
In the OR, Thomas oddly foreshadows his own death by telling Cristina that he wants to make sure he's credited for some of her greatness, and gets sentimental with Cristina about how much he respects her. Minutes later, he straight-up drops dead in the middle of the room. Was anyone else a little creeped out by the way Cristina continues the surgery instead of rushing to see if Thomas is OK? I know she's just trying to be a professional, but still.
And finally, the moment we've all been waiting for — Cristina is back in Seattle! She shows up on Meredith's doorstep as a surprise, but if the previews for next week's episode are any indication, Dr. Yang is back in the saddle. I saw this one coming a mile away, and I'm glad to have all the surgeons back under one roof again.
What'd you think of this week's episode?