Grey's Anatomy Recap, "Can't Fight This Feeling"
Grey's Anatomy Rundown, "Can't Fight This Feeling"
This week's Grey's Anatomy feels an awful lot like a filler episode, but there is one bright spot: Sarah Chalke (who played a doctor herself on Scrubs) makes a guest appearance as a concerned mother who can't figure out what's wrong with her son.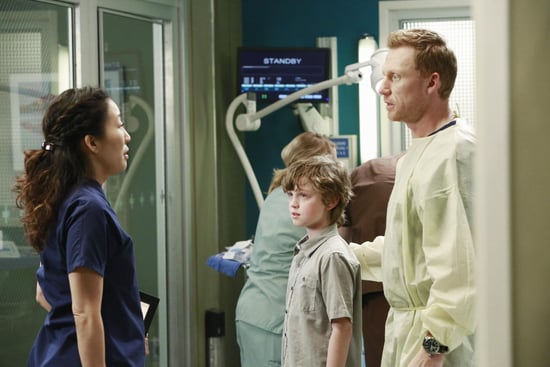 Other than that, it's a lot of same old, same old: Alex is still annoyed with Jo's new boyfriend, Meredith is busy making plans for her new baby, and April and Matthew take a step in their relationship. There's a caveat to that, though: we still see a glimmer of feeling between April and Jackson. Let's break down this week's episode when you read more.
Just when I thought Alex's crush on Jo couldn't get to a more high school level, he's now repeatedly busting in on her makeout sessions with Jason. To make matters worse, there's now obvious tension between Alex and Jason: they even have a tete-à-tete about who is a bigger douchebag (like I said, immature). Alex isn't even trying to hide his jealousy anymore, complaining to Stephanie about what a jerk Jason is, though Stephanie doesn't exactly see his point of view. Here's the question: when will Jo finally address the situation? I find it hard to believe that Jason hasn't brought up the issue to her, considering how irritating Alex is being.
When a worried mother (played by Chalke) comes into the hospital concerned about her son, only Meredith is willing to get to the bottom of the case (especially after Jo passes her off to psychology). Eventually Mere figures out the problem and is impressed by how much maternal instinct came into play to save the boy's life. To ensure that Meredith can provide Zola with the same protection, she decides to have Zola genetically mapped — but the real kicker is that she agrees to go through the process herself as well, which means finding out if she carries the Alzheimer's gene.
April's boyfriend, Matthew, comes into the hospital after sacrificing himself in the line of paramedic duty. Though he's mostly OK, Jackson is the one who signs up to treat him — awkward. What's even more awkward is that April gets way emotional after losing a patient and turns to Jackson to console her. We haven't seen these two getting close in awhile, but it's clear that the spark is still there, especially when they get thisclose to kissing. However, Alex, who is the king of rude interruptions this week, breaks it up before they cross any lines. April ends up dropping the L-bomb on Matthew, who returns her sentiments, but we haven't seen Jackson's relationship with Stephanie progress much lately. Season finale reunion between Jackson and April, anyone?
Though Derek and Owen don't have major plotlines this week, there are a few seeds planted. Derek gives Brooks a chance to step it up (which puts a damper on his relationship with his golden boy, Shane), and Owen strikes up a friendship with a young boy whose parents are admitted to the hospital. In true Cristina fashion, she doesn't give the boy a second look, but I'm thinking that their debate about having kids is about to reenter the picture.
What did you think of this week's episode?