Grey's Anatomy Recap "Do You Believe in Magic"
Grey's Anatomy Rundown, "Do You Believe in Magic"
There are some gasp-worthy moments in this week's episode of Grey's Anatomy, and I'm not just talking about the magician who accidentally saws his assistant in half for real. Jo's relationship with Jason takes an unexpected turn that will change everything, Bailey's having trouble moving on from the big investigation, and some drunk 21-year-olds ask Jackson for a breast exam (OK, that part is actually pretty funny).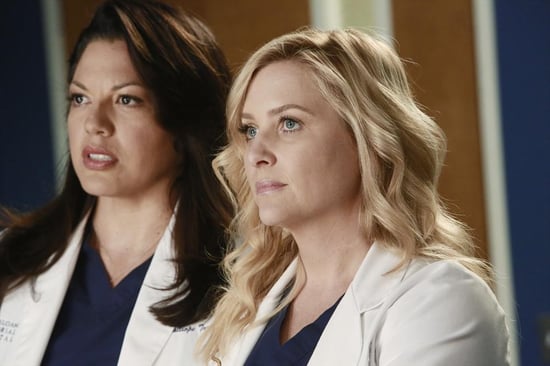 Since we're leading up to yet another epic finale (a huge storm is coming, naturally), the big guns are coming out, and I have a feeling we're about to see some major shake-ups. Let's get down to business when you
.
The "how long before Owen adopts Ethan" drama thickens this week, as Ethan is still roaming around the hospital waiting for his dad to wake up. When Owen urges Ethan to spend some time with his grandmother, Ethan says point blank that he'd rather be with Owen. Then he rebels by overdosing on his grandma's sleeping pills, prompting her to deem herself an unfit parent and tell Owen that social services needs to find Ethan a better home. At this point, unless Ethan's dad miraculously wakes up, I don't see how this plotline could end in any way other than Owen taking him in — no matter what Owen tells Cristina.
Well, it turns out Alex was right all along: Jason really is a douchebag. Alex revisits his broody teenage years by doing his best to avoid Jo at all costs — even in the OR. Eventually she confronts him about the awkwardness, but it only leads to another spat between them. As Alex storms out of the hospital, he sees Jo and Jason in a heated argument — but what he doesn't see is that Jason gives Jo a black eye after their fight. Alex is ready to shut Jo down again until he realizes what happened. And now we can all assume that Jason is dead meat, right?
Watch out, Callie: you've got some competition! A new doctor named Lauren waltzes into Grey Sloan Memorial for a difficult surgery and wastes no time at all setting her sights on Arizona. I can't remember the last time Arizona had a paramour besides Callie, so it's a little unsettling to see her getting so giddy every time Lauren is in the room — especially since Lauren doesn't seem to be backing off.
While Jackson is grappling with running the hospital, he's been letting his relationship with Stephanie slip big time. If you ask me, it's because April is still on his mind; when they work on a patient together, it's clear that there are still feelings between them. April even apologizes for yelling at him for the 200th time, and Jackson casually mentions how he likes watching her work. There's no relapse for them this week, though: Jackson rejects April's drink invitation, and just when I thought Jackson is about to dump Stephanie, he pulls her in for a kiss instead.
If you thought Bailey would be back to business as usual after her investigation (like I kinda did), you're wrong. Instead, she's become downright reclusive, refusing to speak with anyone and shutting herself up in a lab. None of the doctors can get her to open up (even ambushing her outside of the bathroom doesn't work), so Webber calls her husband. It's heartbreaking to see Bailey break down all over again and call herself "dirty," and it's especially sad to find out what she's been doing in that lab — testing herself for every strain of every disease she can think of, so the situation never happens again.
What did you think of this week's episode of Grey's?