Grey's Anatomy Recap For "Everybody's Crying Mercy"
Scrubbing In on Grey's Anatomy: "Everybody's Crying Mercy"
The dust is still settling from the superstorm in this week's episode of Grey's Anatomy, but everything else is pretty much a mess. Derek and Meredith are stuck at home with the new baby, and while Meredith is recovering from surgery, Derek is battling his exhaustion. At the hospital, April's waiting for important results, Richard's not doing so hot, Alex and Jo are trying to seal the deal, and Callie and Arizona are hanging on by a thread.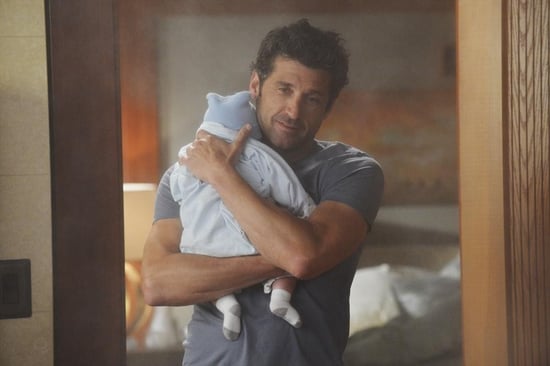 Find out about everything that happened when you read on.
Callie has a patient who cheated on her husband. How's that for good timing? The patient confesses to Leah the intern that she wants her husband to know the truth. She ends up dying, and though Callie at first thinks the intern should tell the grieving husband the truth, she can't allow him to be hurt. She later decides she can't join Arizona for couple's counseling. She realizes that, while she wishes she never found out about Arizona's infidelity, they were broken before, and they're even more broken now. Arizona has to fix herself first. Let's have a round of applause for Callie.
Jackson's vanity surgery turns into a hospital vanity story. When he wants to help a woman with a scarred face feel normal again, Owen tells him there's not enough money in the hospital. The outpatient wing was totally destroyed by the storm, and instead of convincing Jackson with words, he shows him that money has to come from somewhere else. Then everyone jumps to the conclusion that the hospital needs to have a gala dinner to make some extra bucks. Oh, OK, cool.
One of the big focal points of the episode is the fact that Alex and Jo are crazy about each other and haven't had sex yet. In the world of more literal patient metaphors, Cristina and Alex are repairing the heart of a patient while Cristina convinces Alex to just go for it; she argues that it's not that the sex has to be special; it's the fact that Jo is special. Alex is worried because everything he's ever had has ended in carnage, but Jo feels special. In the end, the patient's heart is irreparable and requires a transplant. Let's hope this doesn't mean Alex will always be broken.
In related news, Cristina is trying to detach all her emotions from Owen. It's finally over this time, everyone. Both of them recognize that it's going to be a process for the two of them to get over one another. If Cristina's trying to turn her feelings off, then maybe she's not in the right place to be advising Alex on his love life. But then again, Alex has to open himself up eventually, right?
April passes her boards. Last time was just because of the sex with Jackson! April's fine! Yay, April!
Chief Webber isn't doing so well. He can't swallow properly, and he needs a feeding tube to survive. After a big to-do and after Meredith comes to the hospital to make sure his recovery's on track, he drops the big bombshell: he didn't pick Meredith because of her emotional familial connection to him. He picked her because he had hoped she'd make the choice without emotion. He wanted her to let him die. Um, OK, wow.
What did you think? Is Richard being a big baby, or should Meredith have let him go?