Grey's Anatomy Recap "Have You Seen Me Lately?"
Grey's Anatomy Rundown, "Have You Seen Me Lately?"
The line between Private Practice and Grey's Anatomy blurs once again this week, as Cooper's baby mama Erica is brought into Seattle Grace with a life-threatening brain tumor. Naturally, Derek is the man to see, but the twist is that his kid sis Amy is the one trying to convince him, and it's only a few minutes before the two are fighting like, well, brother and sister.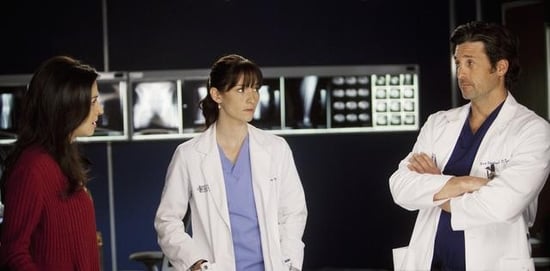 Derek and Amy aren't the only ones who are sparring though; Owen and Cristina spend the entire episode quibbling in a therapy session. Other than that, the episode is kind of blah: heavy on patient craziness, low on doctor-to-doctor drama. Ready to break it down? Just read more.
Amy's fresh out of rehab and trying to get Derek on board with a seemingly impossible surgery. For the sake of Cooper's son, Mason, Amy wants to perform surgery on Erica. Derek immediately shoots her down, and when Lexie tries to intervene, Derek reveals that he's worried about her emotional attachment to the case and doesn't want to see his sister fall off the wagon. Lexie wears him down though, and he and Amy figure out a viable solution.
Things aren't looking so hot for Owen and Cristina's relationship. Throughout the episode we see snippets of their arguments, which mostly revolve around Cristina's abortion and eventually turn to Cristina's relationship with Meredith. Then, they hit the nail on the head: Owen, not Meredith, should be Cristina's "person." It's not exactly a breakthrough for the couple, and they're on opposite sides of the couch when their session draws to a close.
Dr. Webber notices that Meredith is a little behind in her studies, so he approaches Callie about it in a very mafia-esque scene while they're scrubbing in. Though Callie is skeptical at first, she agrees to take Meredith under wing and show off her top-secret study plan. Nothing like a dude with his hand stuck in a meat grinder to bring doctors together, eh?
Karev gets some career affirmation from Arizona. It's no surprise that he uses his interns as study buddies, since Alex cares little about anyone but himself, but he has an epiphany when one of his interns goes into early labor. Realizing that he never even bothered to learn his name, Alex beats himself up about being too self-absorbed. Arizona is still in his corner though, and she assures him that he's proving that he has what it takes to be a pediatric surgeon — but his social skills could use a little improvement.
What'd you think of this week's episode? Were you bored or hooked?