Grey's Anatomy Recap Love the One You're With
Grey's Anatomy Rundown, "Love the One You're With"
The shock of the big Grey's Anatomy plane crash may be over now, but the dust is still settling, and the doctors involved in the tragedy have a very big decision to make on this week's episode. They're faced with the dilemma of either accepting a settlement for the accident (aka a very large sum of money) or leaving the case open for investigation in hopes of finding out what really went wrong with the plane. At first everyone's envisioning what they could do with the money, but soon Derek has his colleagues changing their tunes.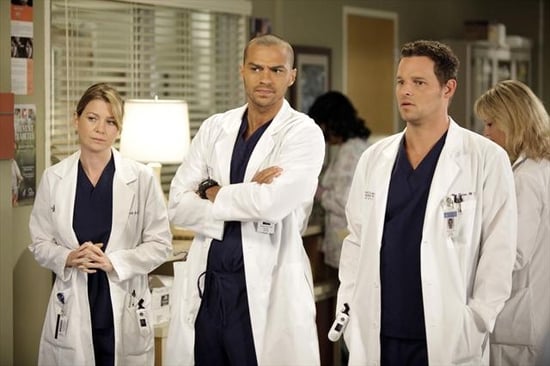 On the relationship drama front, there's some serious sexual tension between Jackson and April and just plain tension between Callie and Arizona. Oh, and "diseased" Alex is back to dipping his pen in the company ink as many times as possible. Let's break it down when you
.
Cristina's still in Minnesota, but thanks to the wonders of Skype and cell phones, she's very much in the loop at Seattle Grace. It's not just Meredith who's keeping her updated either; she and Owen are having regular chats (even when he's with patients — rude), hinting that they're starting to get comfortable with each other again. A little too comfortable, perhaps, because Cristina puts the kibosh on their interactions, asserting that she's staying in Minnesota. Yeah, right.
Let's say it all together now: poor Callie. Don't get me wrong — my heart absolutely goes out to Arizona, too, but it's hard to watch their scenes together this week as Arizona constantly snaps at Callie and shudders at her touch. I think what surprises me most about Arizona's current behavior is that it's so inconsistent with what she was like in the past: strong, confident, and a cheerleader for pretty much anyone. My heart broke during the bathroom scene, and I'm sure I'm not the only one.
Oh, Jackson and April, you hormonal little teenagers. Everyone's surprised to see April back at the hospital (so much so that they actually question whether or not she's delusional), but no one is more shocked than Jackson. He tries to play it cool, but that goes out the window when April explains how she's going through "revirginizing," with the help of Justin Timberlake (or something). Jackson takes offense when April wants to pretend like they never did it, and starts getting superpetty about it. Of course, once he finally mans up and agrees to stay away from her, they start tearing each other's clothes off.
In other Seattle Grace happenings: Bailey's frustrated that she's feeling unneeded, an intern finally rejects Alex for being too much of a man-whore, and the gang decides not to accept the settlement in hopes that they can save other people from future plane crashes. What did you think of this week's episode?