Grey's Anatomy Recap "That's Me Trying"
Grey's Anatomy Rundown, "That's Me Trying"
If you've been wondering when this season of Grey's Anatomy would start shaking things up, then I hope you caught this week's episode. The patients are nothing out of the ordinary — in fact, most of the doctors are tied up with trauma certification — but by the end of the day, two of the surgeons have made seriously life-altering decisions.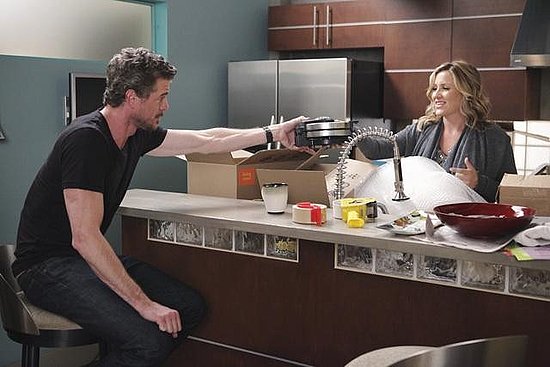 As Callie and Arizona pack up and prepare to leave for Malawi, Mark and Lexie work together on a plastics patient who wants to put more junk in her trunk (her words, not mine). Meanwhile, Meredith tries to assist Cristina with a patient, but Cristina's still not entirely pleased with Meredith after everything that went down on the documentary. To get into the rest of the details, just
.
It's closing time for Callie and Arizona as they prepare to head to Malawi for three years. Arizona is in a daze with the excitement of the trip, but Callie's not in the same boat. In fact, she has a puss on while Arizona gives Callie's beloved waffle iron and french press away to Mark, and her attitude only worsens when she heads to the hospital. The chief isn't exactly helpful either; sad to see two of his best surgeons go, he lays the guilt trip on pretty thick.
After whining the day away right up to the airport, Arizona finally tells Callie that she can't take it anymore and says she doesn't want Callie to come with her to Africa. Though their relationship status is most definitely up in the air right now, I'm sure Callie is secretly relieved that she doesn't have to move. To be honest, I don't blame Arizona. It's easy to sympathize with Callie for not wanting to uproot, but once she made the commitment, she could have been a little happier for her girlfriend. I don't think anyone actually expected Callie to be gone for long (after all, Arizona's trip is just a cover-up for actress Jessica Capshaw's pregnancy and maternity leave), but what will be the excuse for bringing Arizona back? And will the women get back together?
Teddy, tired of holding Cristina's hand through every patient, decides to leave the struggling surgeon in charge of a patient while she sets out to find said patient a new pair of a lungs. Yang's looking slightly more confident, but it's not easy for her. Owen takes note and sends Meredith in to help his wife, but that only makes matters worse. Cristina and Meredith immediately start bickering until Yang reveals the truth: she's angry with Meredith since she's "ruined" and Meredith is fine. To make matters worse, Cristina blames Meredith for her issues, saying that Mere's behavior in the OR during the shooting is why she's so messed up. I know Cristina is in a dark place, but this is cold even for her. Also, why hasn't anyone tried to get Cristina more therapy?
Despite Cristina's harsh words, she makes it through the day and does everything right with her patient (even though she seems uneasy about it). She proves that she still can work, she just won't. At the end of the episode, she drops a bomb on Owen: she's decided to quit. Honestly, I'm surprised that it even got to this point and nobody forced her to take a leave of absence before. But now that she's gone, how is she going to get back in?
Now that he's secured the million-dollar grant for the trauma ward, Owen puts the surgeons to work on getting their certification. The rigorous training involves a lot of yelling, a lot of working in the rain, and a lot of exasperated doctors. Jackson even gives up in the middle of the day, much to Owen's chagrin. In the end, April gets so agitated that she takes matters into her own hands to convince Owen that they're ready to pass his tests. April's always been a little wacky, but her outburst is hilarious — and did anyone else notice the glance she exchanges with Karev at the bar? Start placing your bets now on whether or not he'll be the one to take her V-card (I still think Jackson has a fighting chance).
Derek takes a backseat this week as he tries to write a grant proposal for his Alzheimer's research. Dr. Bailey only adds to his procrastination, as she meets with him on breaks from doing Mary's autopsy. Bailey is still frustrated about losing Mary (Mandy Moore), and the pathologist she's working with doesn't help (psst it's Anna from Mad Men). It's just another example of the differences between a doctor who is just doing her job and one who's deeply attached to her patient. At the end of the day, Bailey is frustrated that she doesn't have a result, and Derek still can't get his research together.
Were you shocked that Cristina quit? Sad about Callie and Arizona? Personally, I'm just glad that Mark and Lexie are finally starting to flirt again. Share your thoughts on the episode, or head to the Grey's Anatomy Junkies group to start your own posts, polls, and more!
Photo copyright 2010 ABC, Inc.