Grey's Anatomy Recap, "Moment of Truth"
Grey's Anatomy Rundown, "Moment of Truth"
As the title of this week's episode of Grey's Anatomy suggests, the moment the Seattle Grace residents have been waiting for has finally arrived: the boards. Jackson, Cristina, April, Meredith, and Karev are all gearing up for the big day, but they each have very different obstacles in their way. April is naturally freaking out, Karev can't get his mind off Morgan and Tommy, and Meredith comes down with the stomach flu at the worst possible time.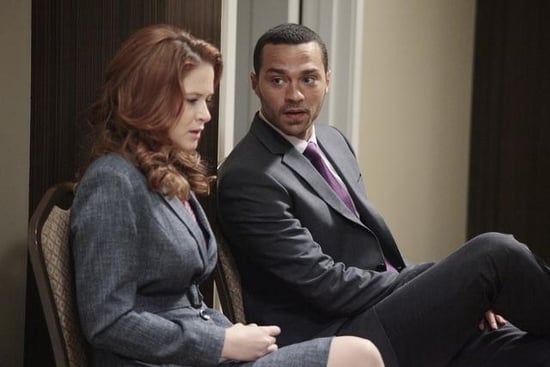 And then there are the doctors who aren't taking the test: Lexie is still taunted by her feelings for Mark, Teddy and Owen are at each other's throats, and Webber gives himself a break — with the help of Jackson's mom. Let's break down all the highlights of the episode when you read more.
As the big day inches steadily closer, April is panicking more than ever. When she's not crying or snapping at people, she also finds time to accidentally tip off a fellow doctor that she snatched up the job he wanted for next year. Later, the same doctor drunkenly confronts her about the situation and April really loses her cool — she punches the guy out! High on confidence from her moment, she lunges at Jackson and tells him she's ready to lose her virginity. Jackson is actually really sweet about the whole situation, but April is clearly having some regrets immediately after. First, she kicks Jackson out of bed, then she hilariously freaks out about Jesus "hating her." It initially seems like a little sex might be just what April needs to chill out, but now I'm thinking she may have dug her own grave by giving herself yet another issue to agonize over.
While Jackson is busy making a woman out of his best friend, his mom is also getting a little action. Was anyone else a little weirded out by the way Jackson's sex scene is juxtaposed with his mom's? Mrs. Avery runs to Dr. Webber at the test site in San Francisco, and it's not long before she's whipping out all of her moves over dinner. Dr. Webber acquiesces, and they hop into the sack. It all seems well and good — Webber doesn't even seem to be having any regrets about Adele — until Jackson comes knocking on the door looking for his lucky pencil and instead finds the former chief in a bathrobe. Whoops.
One person who isn't getting any is Lexie, though it's not for lack of wanting. With Jackson away, Mark's a little restless around the hospital, so he turns his attention to Lexie. She does her best to try to keep her distance, but she can't help flirting a little. She even comes close to admitting her feelings but stalls when Mark tells her that she and Jackson made a great couple. Poor Lexie ends up literally crying on Derek's shoulder about how much the situation sucks — but I have a feeling it's all leading up to a big season finale reunion. On a related note — when was the last time Mark even mentioned his girlfriend?
With Meredith battling the flu, Cristina comes to her rescue with lots of Gatorade and other reinforcements (behind the safety of a surgical mask and closed door). The two have a heart to heart where Cristina finally opens up about her issues with Owen, but Meredith has a hard time consoling her when Cristina keeps going back and forth about what she wants to do with Owen. I was fully convinced that these two are done, but now it seems like Cristina is warming up to the idea of a reconciliation — what do you think?
Alex has been keeping his distance since his fallout with Morgan, but he can't stay away from her and baby Tommy this week. Arizona basically has to force him onto the shuttle to San Francisco, but even then he continues to call her every hour with ideas. Eventually he can't take any more and hops back on a plane to Seattle, but he's too late. Arizona informs Karev that it's finally over, and he sits with Morgan as she watches Tommy takes his final breaths. After the heartbreaking scene, Arizona convinces Alex that he should try to get back to SF in time for his boards, but in the final moments of the episode, we learn that he doesn't make it.
With only a few episodes to go, it seems like things are finally starting to get juicy on Grey's. Were you surprised about April and Jackson? Which doctors do you think will pass the boards?