Grey's Anatomy Recap, "One Step Too Far"
Grey's Anatomy Rundown, "One Step Too Far"
Jackson's overbearing mother Catherine returns to Seattle Grace on this week's episode of Grey's Anatomy, and as usual, she can't help stirring up a bit of trouble. Though she's there to help with a procedure, she brings out interesting new romantic developments in Jackson and Dr. Webber.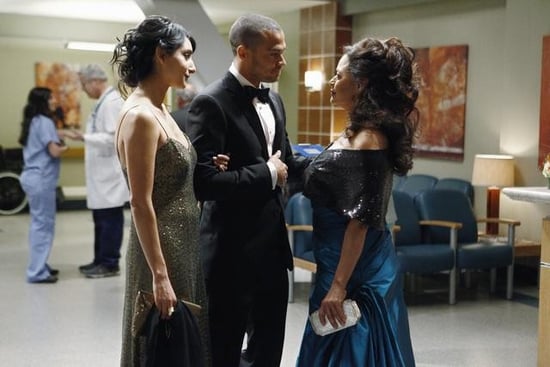 Speaking of romance, Derek and Meredith learn once again that love and surgery don't mix, and Owen and Cristina hit yet another bump in their already-rocky road. There is hope for one surgeon though: Alex may be on the verge of a new relationship with one of his interns. Ready to break it all down? Just read more.
Jackson is clearly agitated by his mother's presence, and makes Mark promise to keep him busy so that Mrs. Avery will be at bay. Unfortunately, Sloan is more interested in getting Jackson laid, and plays dumb when Mrs. Avery suggests that Jackson give a tour to her "hot tourist" Fellow (Rebecca Hazelwood, who you may remember from Outsourced). Jackson begrudgingly plays along until he thinks that his mother is just trying to set him up on a date.
Though it seems like any hope of a romance is lost, Jackson and Mara have a romantic-comedy-style breakthrough when they bond over their mutual frustration with Jackson's mother. All it takes is a few pearls of wisdom and soon the two are doing it in the on-call room. Now that Jackson is starting to move on, this leaves the door for Lexie and Mark to get back together wide open. Just saying.
Karev's intern Morgan has grown increasingly attached to him ever since the premature birth of her baby boy. The two are looking cozy at the beginning of the episode, as she teases him and helps him with his studying. The flirtation is obvious, and the rest of the surgeons start placing bets and making fun of Karev at every chance. Though Karev gets huffy when Callie shows Karev how smitten Morgan is, I think these two are on a one-way trip to relationshipville.
Webber's been spending so much time and energy taking care of Adele that he's falling asleep on the job — literally. Catherine Avery comes in and wastes no time flirting with the former Chief, and by the end of the episode, she's even convinced him to go out on a date with her. Though he accepts at first, a pep talk with Bailey makes him change his mind. He sweetly tells Catherine that he likes the attention he's getting from her, but that he needs to be with his wife.
Derek tries to get Meredith back into neuro again, but all it takes is one botched surgery for him to change his mind. When Lexie and Mere are left to close up a patient, they take it upon themselves to remove a tumor without Derek's supervision. Derek is understandably angry, and is even more irate when he discovered that Lexie made a mistake. Meredith wisely points out that she and Derek shouldn't be on the same rotation, but it's Lexie who really suffers and continues to beat herself up about it.
Cristina is still not over her fixation on the idea that nurse Emily is sleeping with Owen. The situation is worsened when Owen suggests that Emily can help Cristina with her poor bedside manner. After a few tense moments, Cristina finally explodes and accuses Emily of cheating. Emily breaks down, embarassed, and is so hellbent on convincing Cristina otherwise that she even offers up her sexts from her boyfriend. Back at home, Cristina confronts Owen about it, and he confirms that he and Emily were just sharing trail mix, etc. But shortly after, he drops the bomb that he did cheat on Cristina with someone else. Do you think it could have been Teddy during some kind of emotional lapse that happened offscreen? Was it another doctor in the hospital? Or did he cheat with a total stranger?
Were you happy to have Grey's back from hiatus? Surprised that Owen really did cheat? Chime in below in the comments!