Grey's Anatomy Recap, "If Only You Were Lonely"
Grey's Anatomy Rundown, "If Only You Were Lonely"
The promos for this week's episode of Grey's Anatomy teased a steamy, potentially scandalous episode, but the actual show is a bit of a letdown. Maybe it's just me, but the show seems to have hit a serious lull lately, which is a disappointment in the midst of February sweeps.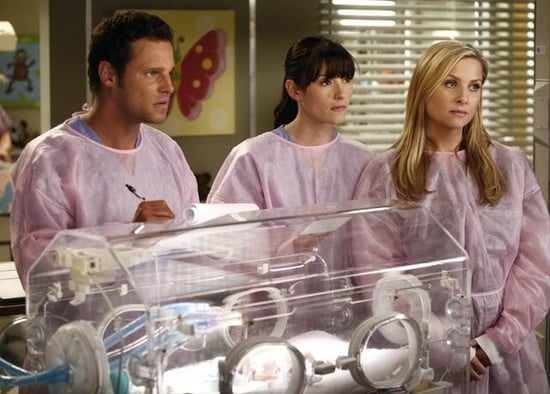 All the docs are still studying for their boards, with Meredith getting a major confidence boost from her sessions with Callie. Jackson, on the other hand, is so stressed that it's affecting his patients, which gives Mark the idea that his protege just needs to get laid. Meanwhile, Cristina's battling paranoia that Owen is sleeping with one of the nurses. Ready to break down all the biggest moments? Just read more.
I'm not sure how much time has supposedly passed since last week's episode, but apparently it's long enough for Owen to have started an affair. Or is it? Cristina is suddenly convinced that he's shacking up with a pretty nurse named Emily, and her theory is only intensified when Alex informs her that Emily sleeps exclusively with attendings. It takes a lot for Cristina to get rattled, and her subsequent behavior is decidedly un-Cristina-like: trying to hack April's computer for Emily's schedule, rummaging through Owen's things looking for evidence, etc. She even pages him and desperately throws herself at him during hospital hours, only to get seriously rebuffed. Owen doesn't seem like the cheating kind to me, but do you think he could be having an affair?
Adele's condition starts taking a serious turn for the worse, and Webber is forced to consider other options when she sets their kitchen on fire and he ends up with an injured hand. Meredith urges him to look into facilities, but when Adele has one of her episodes at the home, Webber balks and decides that he can take care of her himself. You can't help but feel for the guy when Adele has a moment of clarity later on and tells him point blank that she knows she has Alzheimer's — and that he should check her into the home.
Jackson's stress about the boards is reaching fever pitch and starting to affect his bedside manner. After Mark catches him snapping at a patient, he basically puts Jackson in timeout, and then takes it upon himself to try to relieve the stress. Naturally, Mark decides that Jackson needs some TLC and starts foisting all the single ladies on Jackson (including April!), but Mark realizes that Jackson's still not over Lexie yet. Mark doesn't seem to be rattled by Jackson's feelings for their mutual ex, but I smell an end-of-the-season showdown, especially since Julia seems to be fading away.
Teddy gets frazzled and can't keep her focus during an important grant pitch and laments her botched job to her fellow surgeons. Callie suggests that she ask Owen to call in a favor, but Teddy icily replies that she and Owen are still not on speaking terms — so Callie goes to Owen herself. Teddy is elated when she learns that her grant came through, but Owen keeps his involvement under wraps and says he's happy to be Teddy's punching bag. Do you think Teddy will have a change of heart when she inevitably gets wind of what he did, or will she be even angrier that he went behind her back once again?
How'd you feel about this week's episode? Did your heart break for Webber and Adele? How sweet is it when Derek does Zola's hair? Sound off in the comments!