Grey's Anatomy Recap, "Put Me In, Coach"
Grey's Anatomy Rundown, "Put Me In, Coach"
The doctors of Seattle Grace are competing for more than just surgeries on this week's Grey's Anatomy; Owen is also trying to whip them into shape as a softball team. They're not exactly in prime athletic shape though, and even recruiting a former pro in Henry is no match for the stiff competition coming from Seattle Press.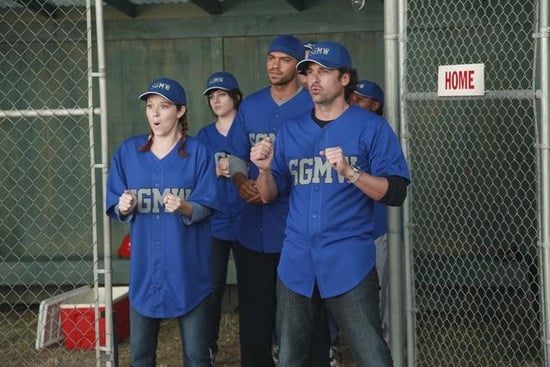 It's on the lighter side of the spectrum as far as Grey's episodes go: everything works out peachy keen with their patients, and the show is low on drama — aside from Sloane and his new lady friend having a serious effect on Lexie. Let's break it down when you keep reading.
Cristina is still on Teddy's rotation, and is more frustrated than ever with her mentor. Though she's initially excited about the promise of a new surgery, she's disappointed to see that Teddy has stuck her with a routine procedure. But then: twist! As it turns out, Cristina isn't being punished, but tested. By letting April step in to take the lead and putting the patient first, Teddy says that Cristina has "graduated" into a better surgeon — and she even offers to give Cristina as many crazy surgeries as she can.
Oh, April. Is anyone else getting tired of watching all the other doctors walk all over her time and time again? This week it's Callie who intervenes and tells April to take control, and she does! Though reluctant at first, she performs a surgery that scares her, and it "makes her heart sing." I love seeing April succeed, but all too often it feels like she takes a step forward only to retreat in the next episode.
With Zola's fate still up in the air, Karev decides to put his typical selfishness aside and takes matters into his own hands. After a long day of waiting, bribery, and sticking his nose where it doesn't belong, he barges in on a judge's doctor's visit to plead Meredith and Derek's case. It's one of those heroic efforts that would probably have gotten him in trouble in real life, but this is TV we're talking about, and his actions get Meredith and Derek the court hearing they've been hoping for. I was proud of Karev for keeping mum while Mere and Der celebrate their happy news.
Meredith is still working in O.B., and doing her best to help Bailey with Webber's diabetes trials. Just when Bailey is about to put her foot down for the last time, Meredith has a revelation taken from her mother's old journals. It's not enough to smooth over the tension though, and the ladies end up duking it out on the baseball field. Luckily, Webber is there to save the day and puts both of the doctors in their places before any punches are thrown. Bailey finally acquiesces and lets Meredith in on the trial.
It was just last week that Mark was trying to ease his sexual frustration with food, but now he's found a better method: starting a new relationship. It takes all of about five seconds before Lexie starts seeing red, and she makes zero attempt to hide it. Not only does she admit to Derek that she isn't happy for him, but she lets her emotions get the best of her during the baseball game — and ultimately pegs the girl right in the chest. It's a hilarious moment, but my heart went out to poor Jackson: the look on his face when he realizes that Lexie still loves Mark is so sad.
Do you think Jackson and Lexie are doomed? Will Meredith and Derek finally get Zola back? Let's hear your thoughts in the comments!
Photo copyright 2011 ABC, Inc.