Grey's Anatomy Recap of "Puttin' On the Ritz"
Grey's Anatomy Rundown: "Puttin' On the Ritz"
This week on Grey's Anatomy, it's all about the money, and a little bit about the competition, too. The doctors throw a huge fundraiser to raise cash for the hospital, and things don't quite go as planned. Meredith and Derek are forced out of maternity (and paternity leave), someone's bone pops out of their leg, and most people either end up drunk or in scrubs. I think they still make a decent amount of money, though!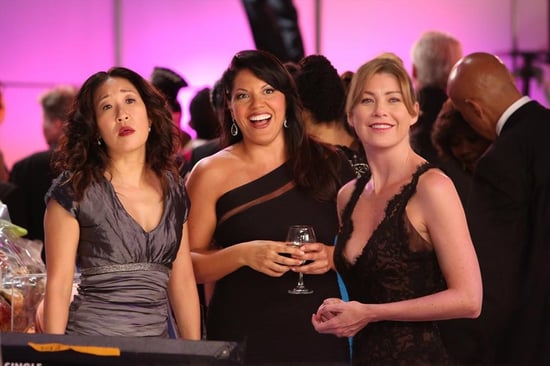 Find out what happened when you read on.
Oh, how easy it is to forget that everyone on the show cleans up nice. Instead of seeing them covered in blood and hospitalwear, they trade their scrubs in for tuxes and dresses, and I'm not complaining. Plus, the gala is a great way to bring in a few necessary developments. Owen finds a love interest, and one of the weird circus performers falls and her bone snaps out of her leg, which is totally gross. But, in the end, I guess it earns the doctors their cash and brownie points?
Dr. Webber has a serious death wish. He's really determined to just let go, and in the meantime, Dr. Bailey has another patient who's doomed, yet determined to fight. What's the best thing to do? Stick 'em in a room together and let them talk out their feelings. Great work, Dr. Bailey.
A bunch of guys come in and they're strung out on heroin. At first it seems like a pretty arbitrary plot point, until we find out one of them is Alex's father. Then, it's just a really bizarre way of introducing Alex's father. Either way, it looks like it's mostly just a means of exposing Alex's sensitive side and drawing him and Jo closer together, which I'm always a fan of. I'm really rooting for it to work out this time! Who's with me?
Callie spends half the episode pretending Arizona's dead. Harsh. Callie then meets an actual grieving widow, so that dwindles quickly. April overhears, though, and spends the episode consoling Arizona. The consequential supply-closet drinking and bonding session between Arizona and April is surprisingly cute. I was kind of hoping Callie would realize what it would be like to actually lose Arizona and take her back. I miss them.
Interns should never be left in charge. Ever. When interns are in charge, bad things happen. It kind of turns out okay this time, because Shane and Stephanie manage to hold down the fort before the doctors step in. Then, when Shane randomly tries to kiss Stephanie and Jackson walks in on them, all I could think about is how Shane just ruins everything. Can he leave instead of Cristina? Please?
Speaking of Cristina, I was getting the feeling that she's jealous throughout the episode, but then she leaves Owen alone with his new doctor crush, and it's just sad.
Overall, it feels like something needs to happen to shake things up. The show feels like it's in a rut. What did you think of the episode?