Grey's Anatomy Recap, "Readiness Is All"
Grey's Anatomy Rundown: "Readiness Is All"
A lot — and I mean a lot — happens on Grey's Anatomy this week, and we're not even at the finale yet! We're talking fires, man-kebobs, and flash mobs, and that's only the tip of the iceberg. Jo and Jason's fight takes an unexpected turn when Jason turns up in even worse shape than she's in, and naturally everyone (including me) assumes that Alex has beaten him to a pulp — but there's more to that story than a battered girlfriend.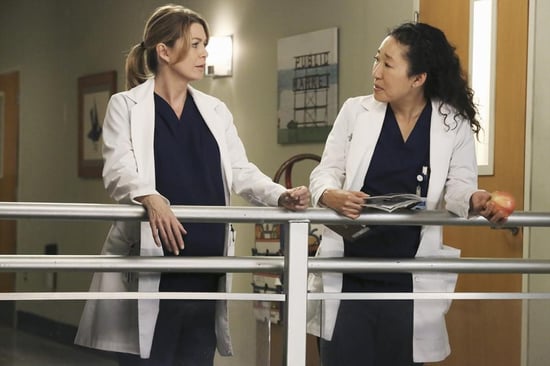 Owen is trying to get the hospital prepped for the huge storm that's headed to Seattle, and April gets a big surprise that's even more unexpected than the inclement weather. There are a lot of other shockers packed in too, so let's get down to it when you
.
Well, I guess Jo isn't a damsel in distress after all. When Alex brings Jason into the hospital, Meredith, Cristina, and the rest of America immediately assume that Alex kicked his ass. Alex promises that he found Jason that way, and Jo turns up to corroborate the story, saying she fought back and he hit his head. Jason's messed up pretty bad, though, and Alex tells Jo to keep the whole thing a secret until Jason wakes up. You gotta hand it to Meredith for protecting Alex; I loved the "I like you but I love Alex" speech she gives Jo about not letting Alex take the fall.
It's the moment we've all seen coming for weeks now: Owen finally admits that he wants to adopt Ethan. He starts picking Meredith's brain about Zola, and by the end of the episode, he's come to terms with the fact that he's ready to take Ethan in (even though Cristina "won't get it"). His timing couldn't be more impeccable; just as he makes the decision, Ethan's dad wakes up. Owen's clearly hurt and coldly demands that Ethan and his dad be transferred to another hospital before the storm rolls in. This issue is definitely not over, though, because it's obvious that Owen wants to be a dad, and Meredith tells Cristina about the whole, entire thing. So is Cristina going to have a change of heart, or was rekindling her relationship with Owen a total waste of time?
April's shrill and whiney as per usual, especially now that she's gearing up to take her boards again. She clashes with Owen, who keeps insisting that she help with paperwork instead of operating on patients. She even tries to appeal to Jackson, who kindly offers to talk to Owen for her. When she's finally allowed to take control of an incoming patient, he starts dancing. Twist! The whole day has been a setup for Matthew's flash-mob engagement. It's pretty adorable (and dorky, as Alex points out), but it's heartwarming to see April so happy. And then she locks eyes with Jackson, and though he gives her a nod of approval, we all know the road to her wedding will probably be long, bumpy, and filled with second-guesses.
I was hoping Arizona's serious flirtation with Lauren wouldn't amount to anything, but my wishing was for nought. Their chemistry is even more palpable this week, and Lauren really doesn't have any respect for Arizona's marriage at all. They flirt all through the pre-op and post-op and, let's face it, even right through the operation. Jackson gushing over how great Lauren is only makes matters worse, and it's clear that Arizona is only thinking about Lauren during Matthew's big proposal. When Arizona tries to say goodbye to Lauren in the on-call room and the lights go out, Lauren makes her move — and then fully convinces Arizona to stay after Arizona tries to push her away. It's frustrating on so many levels.
Meredith takes a nasty spill on the stairs (did anyone else have a flashback to the time she miscarried right in the hospital?) but — phew! — she and the baby are OK. That said, a few hours later her water breaks just as the power is going out. The scenes from the finale don't insinuate that everything goes smoothly, but they can't take this baby away from Meredith and Derek, right? They just can't.
When Jason wakes up, the first person he wants to talk to is a police officer, but Alex gets to him first. He casually mentions that he's friends with pretty much everyone that owns the hospital, and if Jason reports Jo, then Alex will spread the word that he beat her. Though blackmail isn't usually the best option, Alex's logic still makes sense without the threats: Jo's bruised face says it all, and it's easy to forgive a woman for defending herself after she's been attacked. That doesn't stop Alex from calling her an idiot back at the house, though. Jo is immediately concerned that Alex thinks she's a bad person, but Alex assures her that it isn't the case and admits that he would have done the same thing to Jason. It's one of those moments that is so ripe for a declaration of love, but then a tree comes crashing in through the window, wrecking the house (and the moment).
Suffice it to say, there's a lot of setup for what's sure to be another epic (though hopefully not tragic) season finale. What did you think of this week's episode?