Grey's Anatomy Recap "Remember the Time"
Grey's Anatomy Rundown: "Remember the Time"
We're two episodes into the new season of Grey's Anatomy, but we still haven't gotten past the epic plane crash in last season's finale. In fact, this week we go back to fill in the holes, as Meredith dredges up her own painful memories of what happened. It's another heartbreaking episode, and after watching Mark die for a second time, I'm hoping for at least a tiny bit of lightness in the episodes to come.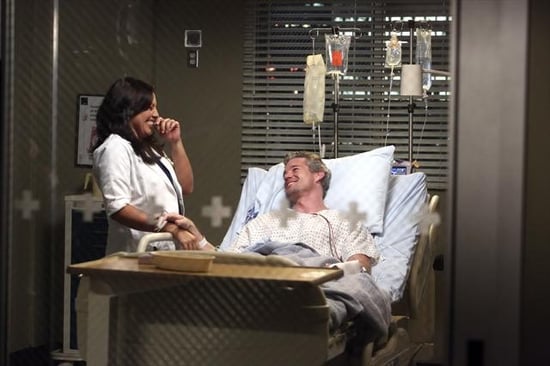 Since the episode is all flashbacks, I thought we could review the biggest surprises of the week. Let's recap what we learned from the episode when you read more.
Cristina went through a semicatatonic period. In the premiere, we see Cristina as her usual snarky self, but she definitely went through a very rough patch on her way to Minnesota. When she's taken back to Seattle, she's not speaking at all, and her violent outbursts almost earn her a one-way ticket to the psych ward. Ultimately, she starts to come back to herself during a sponge bath (courtesy of Owen), where she recounts the horrible details of their four days in the woods — including picking bugs off of Arizona and hearing animals fight over Lexie's remains. Can't blame the girl for fleeing the scene, but I will say that Owen's tenderness toward her in this episode has given me a little hope that their relationship may not be completely over.
Mark was awake before his 30-day coma. I had just assumed that Mark arrived in Seattle unconscious, but as it turns out, he was awake — and cracking dirty jokes — in his final "surge." Though I loved getting a few more scenes with Mark, it's a bittersweet gift knowing how it all ends up. He admits once again that he loved Lexie (to his girlfriend, ouch), and passes out words of wisdom on work and love to Jackson before he slips away. I can only assume that his demand that Jackson always profess his love is going to involve April somewhere down the line.
Derek still wanted to move. I was initially surprised to see that Derek had been so hell-bent on moving to Boston, but as the episode unfolds, it makes more and more sense. With his crushed hand, Derek embraces his new role as a teacher, but then it becomes clear that he's still aching to get back into the OR. He encourages Meredith to move cross-country to get a fresh start, but she's insistent on staying put.
Callie sort of betrayed Arizona. I'm definitely not blaming Callie for making the decision to cut Arizona's leg off, but Arizona's anger towards her wife in the premiere certainly makes more sense now. Arizona makes Callie promise not to do the amputation, and Callie, desperately hoping that she can come up with an alternative, agrees. Ultimately, it's Alex who actually does the surgery, which just adds insult to injury since Arizona berates Alex and calls him a horrible person earlier in the episode. Here's my question: since Arizona accuses Callie of cutting off her leg in the season premiere, do you think Callie covered for Alex?