Grey's Anatomy Recap, Run Baby Run
Grey's Anatomy Rundown, "Run Baby Run"
Things are looking vaguely Christmasy around Seattle Grace, but the only celebration the doctors are talking about on Grey's Anatomy this week is is Bailey's wedding. Unfortunately, the big day is bringing more jitters than cheer, and not just for Bailey. Sure, she's cynical and second-guessing her relationship every step of the way, but I was even more incredulous to see the impact that her nuptials have on her fellow doctors.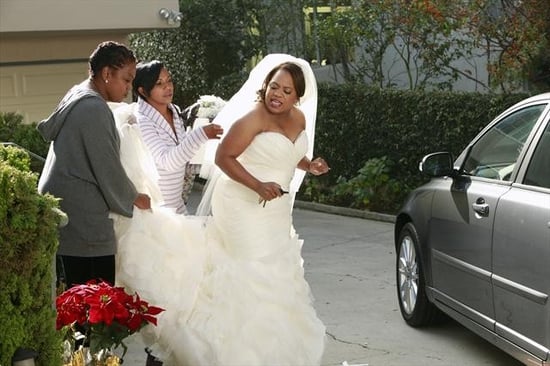 Arizona is nervous about having to wear flats to a black-tie affair, while April and Jackson are so skeptical of their ability to stay away from each other that they actually recruit intern dates. (Apparently a strapless dress really does it for Avery.) Meredith and Derek are also anxious, but not about Bailey's wedding; Derek is wary of letting his sister give up her nerves to help him. So does it all lead up to the white wedding that Ben's been dreaming of? Not exactly. Let's break down the biggest moments when you read more.
Remember last week, when Wilson and Karev bonded over Wilson's confession that she grew up poor? That magic moment is long gone. Karev enlists Wilson to participate in a procedure that's a little out of her league, and everyone else automatically assumes that he has a crush on her (which I think is at least partially accurate). That is, until Wilson has a minor meltdown in the OR and gets it in her brain that Karev had been trying to sabotage her. Naturally, Karev is pissed when he gets wind of this and tells Wilson that their little workplace friendship is over. Too bad Wilson had already unknowingly agreed to be Karev's date for the wedding. I foresee a makeup slow dance in their future (if the wedding actually happens).
So, about that wedding. In true Bailey fashion, she'd rather spend the time leading up to her wedding in the hospital than primping with her family, and she's still tutting about just hours before the "I dos." Webber is the only one who can really keep her sane, and their brother/sister relationship has never been as beautiful or as genuine as it is in this episode. He even picks her up in a limo and holds her hand on the way to the ceremony — until Webber gets an unexpected phone call from the hospital saying that Adele is in rough shape. Rather than let Webber go on without her, Bailey accompanies him to the hospital and scrubs in, in her full wedding hair and makeup. That's a true friend right there, but I'm not sure that Ben will see it in the same way.
Derek's already less than enthused about the idea of his sister giving up her nerves for him, so when he finds out that she'll need surgery on both of her legs, he puts his foot down. Meredith intervenes and pleads with Lizzie, who gives Mere a real piece of her mind. She's upset that Meredith hasn't been an active member of the Shepherd clan, which triggers an uncomfortable conversation about Lexie. All's well that end's well though: Derek and Lizzie both get through the surgery, and Meredith takes a major step forward in her sister-in-law duties by sharing her pregnancy news with Lizzie.
One person who is still in the dark about Meredith's pregnancy is Cristina, but Cristina's got plenty of drama of her own to deal with. She and Owen are super icy around each other in the hospital now that their divorce is happening (the word "amicable" is used like a dirty word), until Meredith spills the beans about why Owen asked for a divorce. It prompts Cristina to take one last stand, and she admits to Owen that she had been hoping that they could try again. Owen responds by lunging at Cristina for a steamy makeout session (and I can only assume more.) 'Round and 'round we go with these two, but is this only going to further complicate the plane crash lawsuit?
What did you think of this week's episode? Do you think Bailey and Ben will ever tie the knot for real? Is this the last we'll see of Adele?