Grey's Anatomy Recap Season Premiere "Free Falling" and "She's Gone"
Grey's Anatomy Rundown, Season Eight Premiere "Free Falling" and "She's Gone"
Isn't it just like Grey's Anatomy to kick off a new season with a horrifying freak accident? For the two-hour premiere, that accident is the collapse of a sinkhole in Seattle. With one woman trapped under her car and dozens of others severely injured, the Seattle Grace surgeons are typically slammed — on top of all of their standard emotional issues, of course.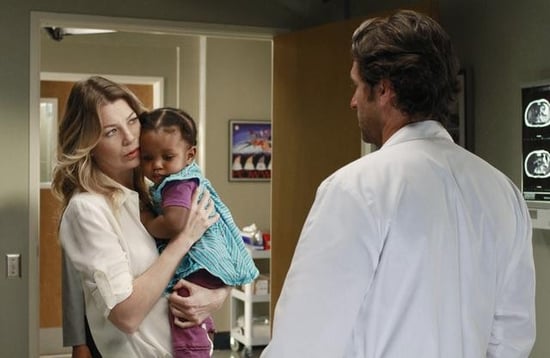 Meredith and Cristina have been avoiding their relationship problems with their respective husbands by leaning on each other and taking care of Zola. As expected, Meredith is fired by the Chief — but not for very long. At the hospital, April is struggling to get the attention and respect of her colleagues as chief resident, and Teddy finds that her new relationship with Henry gives her a very different outlook on his many hospital visits. Overall, the premiere mostly ties up the loose ends left hanging last season, but there are definitely some pivotal moments, so let's get into them when you keep reading.
We pick up a few weeks after where we left off at the end of season seven, which means most of the doctors are a bit frazzled. Meredith is doing her best to be a single mother to Zola while Derek is still sulking about being betrayed by his wife. (At least he's putting that negative energy to good use and working on his dream house.) It seems that he and Owen, who's having his own spousal issues regarding Cristina's pregnancy, are becoming fast friends — which could eventually help Derek swallow his pride and take Meredith back.
No doctor is more harried than April, who's basically getting rebuffed by her fellow doctors every time she tries to flex some muscle as chief resident. Exhausted and ignored, she goes to Bailey for advice, but Bailey blows her off too. The situation goes from comical to critical when April's disorganization lands the wrong patient on the operating table, though April catches her mistake minutes before Bailey carves into a malpractice suit.
Lexie and Jackson are still going strong; though having a screaming baby in the next room isn't exactly putting them in the mood for love. Though their relationship seems to be on solid ground, I'm still not convinced that Mark is over Lexie. His participation in the season premiere is essentially limited to heckling Jackson and scoffing at him when Jackson expresses interest in pursuing plastics. Though Mark changes his tune when Jackson emerges as the revered Gunther, I still don't trust that these two can have an honest working relationship until Mark has moved on in his love life.
Karev has basically hit rock bottom, which means he's living and sleeping at Seattle Grace like some kind of hospital hobo. He's still on the outs with most of his friends for ratting out Meredith to the Chief, which leads to an ugly altercation between him and Cristina. There is one person who has his back: Arizona. Arizona's still championing for Karev's career in pediatrics, but she's not willing to put up with his drama. She urges him to make amends with his friends, and he takes her advice. By the end of the episode, his friendships with Meredith and Cristina are both on the mend.
Teddy's on

cloud nine

thanks to her new relationship with Henry, and even Cristina's arrogance won't get her down. Her smile quickly fades, however, when Henry shows up at the hospital for a routine procedure. Teddy instantly becomes panicked and paranoid, convinced that something will go wrong. Turns out her wifely "instincts" are getting in the way of her typical level-headedness. Everything works out fine, and Teddy makes an important realization about herself: that she's in love with Henry and can't objectively look at him as just another patient anymore.
Meredith doesn't exactly take to her newly fired status right away, and she continues hanging around the hospital, even interfering with other doctor's patients before Bailey gives her the business and tells her to ship out. Just when Meredith becomes content with a life of carpooling and making jam, she inadvertently tips off her social worker that something is amiss with her career and with her relationship with Derek. Scared of losing her daughter, Meredith takes Zola and runs. When she returns hours later to an irritated Derek, Janet tells the couple that she has no choice but to give Zola to a different family for a while. On the bright side, Webber tells Derek to stop punishing Meredith for messing with the trial, so I have a feeling these two will be patching things up in the near future.
Just when it seems things can't get any worse for Meredith, she gets an unexpected break: the Chief decides to take the fall for her so she can be re-instated. There are hints littered all throughout the episode; the Chief is clearly tired of spending all of his time in the hospital, and when he can't figure out how to get Meredith a new job, he starts planning his departure. He takes Bailey under his wing and leaves all of his trials to her (much to her chagrin), before dropping the bomb on Derek. Though Meredith initially refuses, Derek convinces her to accept Webber's offer for Zola's sake. Seems a little hypocritical of Derek to go along with the Chief's plan after all of his bellyaching about Meredith's misdeeds.
Despite her own woes, Meredith takes the time to give Owen a piece of her mind. She begs him to make up with Cristina, and more importantly, to accept that Cristina wants an abortion. She uses her own childhood as an example, saying that it would be cruel for Cristina to raise a child that she doesn't want. She finally gets through to Owen, who meets up with Cristina later and offers to hold her hand through the abortion. Cristina initially bursts into tears, and even in the operating room it seems like there was a moment where she might be changing her mind — but as she says herself, Cristina doesn't change her mind.
How'd you feel about the return of Grey's? Are you as annoyed with Derek as I am? Will you miss Chief Webber now that we'll be seeing less of him (or maybe not seeing him at all)?
Photo copyright 2011 ABC, Inc.