Grey's Anatomy Recap For "Somebody That I Used to Know"
Grey's Anatomy Rundown: "Somebody That I Used to Know"
Take it from the doctors on Grey's Anatomy: if you're having problems, the best way to deal with them is to push them far down into your soul until you're numb to them, so you can pretend they don't exist. Forget that your ex cheated on you! It's not OCD if you say it isn't! Who cares about those daddy issues? Denial is the name of the game this week, and we're seeing all sorts of it. The question then becomes: what's the lesson we're supposed to take away from all this?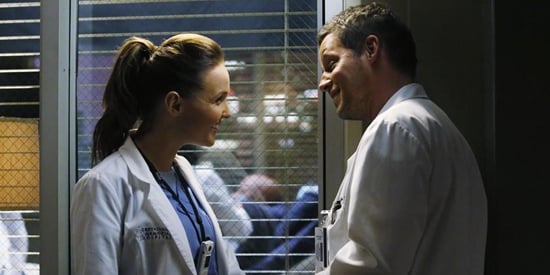 In the wake of Callie's one-off court trial that had no negative effect whatsoever on her career, she's decided to give things with Arizona another go. Meanwhile, Jackson and April are still at odds, Leah's a hot mess, and Grey looks like she's ready to rip Cristina's head off. Get ready to scrub in, because we're going over all the messy details after the jump.
Arizona has finally moved back in with Callie, except she's sleeping on the couch. I guess it's baby steps, right? Of course, Arizona can't keep herself from admitting to Callie that she slept with someone while they were broken up, and it only makes things worse when Callie finds out it's Leah. Also, I'm just going to go ahead and say that it's probably not great to let Callie figure it out while she's drilling into a patient's leg. In the end, they decide to keep trying, because it's not really that heartbreaking to be around your wife's ex-lover all the time.
In light of Owen's new blossoming romance, Cristina decides she needs to get laid. Shane happens to overhear her talking about it with Alex, and he very awkwardly offers his services. Cristina scoffs at him until he shuts down Grey at the end of the episode, after which she slams him into an impromptu make-out session. Is anyone else getting serious Burke déjà vu here?
False alarm, everyone; it turns out Bailey doesn't have a brain tumor after all. She does, however, have OCD, and Ben accidentally shares his concerns with Derek, and eventually Owen. Bailey is consequently pulled out of surgery for the time being, and she's enraged with Ben. There's nothing quite like throwing down a chair and vehemently denying you have OCD, and then promptly picking it back up and putting it back where it belongs.
While I'm more or less glad to see Callie and Arizona working it out, it's only bad news for Leah, who's kind of left in the dust. What's more, Leah's the target of this week's blatantly obvious doctor-patient correlation. A babysitter's freaking out after Ella, the little girl she watches, gets hit by a car and breaks her femur. Leah tries to comfort the babysitter, who says, "Something terrible happened. You have to blame somebody. What, are they going to blame their child? . . . I guess it's my fault. For getting so attached." Really? It comes as no surprise when Leah says almost the exact same thing to Arizona later in the episode.
Elsewhere in the hospital, there are so many break-ups and make-ups, I'm really starting to lose track. Jackson refuses to go to April's wedding because it would be way too weird, Meredith and Cristina are on the outs — and yes, I consider this a break-up — and Owen can't stop rubbing his new relationship in Cristina's face. Also, Alex seems to have completely forgot about his father, and he's getting pretty cozy with Jo. I'm not complaining, though. It's nice to see Alex's soft side again.
So, what's the takeaway here? Is it that deep, emotional trauma only lasts, like, a week? Or is it just really easy to pretend it's not there? Let's hope it's more like real life, where everyone gets slapped with emotional aftershock a little ways down. If Grey's Anatomy is turning into a show that's all about emotional (instead of surgical) trauma, it has to be real.