Grey's Anatomy Recap, "Take the Lead"
Grey's Anatomy Rundown, "Take the Lead"
It's time to step up on Grey's Anatomy this week, as the fifth-year residents lead the surgeries for the first time. The milestone affects the doctors in different ways: Karev loses his cool, Avery chokes, and Cristina forgets what to do altogether. On the other hand, Meredith comes out on top despite her personal issues, but pays the consequences with Derek after the surgery.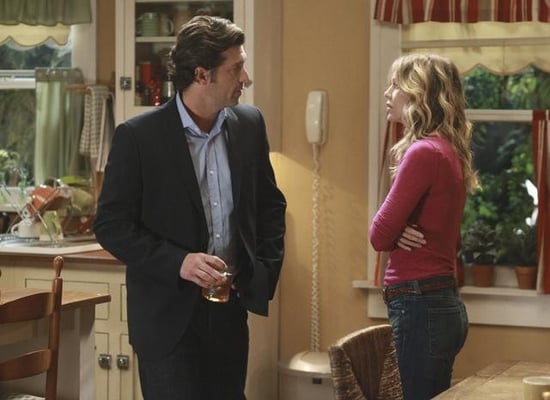 Overall, it's not a particularly drama-heavy episode (aside from the show's central couples making strides back to normalcy), but let's get into it when you read more.
Everyone is stunned when Dr. Webber announces that he's resigning and Owen will be the new Chief of Surgery. Word spreads like wildfire throughout Seattle Grace, with doctors speculating on his decision, gossiping about Meredith, and the like. Meanwhile, Webber has never seemed more upbeat, from talking to his sandwiches to reading while sitting in on Alex's surgery.
Perhaps no doctor is more baffled — or angry — about Webber's decision than Bailey. She's understandably irritated by Webber's decision to quit, and she makes no attempt to hide her feelings. Owen tries to play nice, but she essentially just bites his head off. She may have been Webber's right hand man, but the decision has been made — and she needs to grow up.
Derek and Meredith are still on rocky ground, and their uncertain future with Zola isn't helping matters. Though there's a glimmer of hope when Derek defends Meredith's surgical skills to a patient, his frosty demeanor immediately resumes when she asks him if he still wants to be with her. When Dr. Webber insinuates that a lack of communication could cost Meredith her aneurysm surgery, she tries to back out of the procedure. Despite some in-OR bickering, Mere earns an ovation for her performance — even from Derek. Back at the house, she finally makes Derek talk about his feelings — and he admits that he can't trust her. Meredith finally comes to the conclusion that if they want to stay together, they can't work together.
Cristina and Owen are also on awkward terms, acting more like a newly dating couple (or "bad roommates," as Meredith says) than spouses. The problem is that they haven't talked about Cristina's abortion at all, and now they can't seem to have a regular conversation about anything: Cristina finds out about Owen's promotion through the grape vine; Owen gets tongue-tied over a routine chat about dinner plans. Finally, Owen admits that he's been feeling "terrible" but when Cristina tries to talk about it, it turns out that it's just a bout of food poisoning.
Let's not beat around the bush: Karev is acting like a jerk. Not only is he still giving April a hard time, but he's also displaying terrible bedside manner with his patients. April finally flexes a little bit of chief resident muscle, telling him that talking to the patients is part of his job. When he snaps at her once again, she finally figures out what his problem is: he's nervous about leading a surgery for the first time. He goes on to lose his patient on the table, but at least has the decency to confront the patient's son afterward.
Meanwhile, Cristina is really enjoying bossing around her underlings – perhaps a little too much. After using some scare tactics to freak out her students who can't remember the steps of a routine appendectomy, she commits the biggest faux pas of all when she herself forgets how to do the procedure. To boot, Teddy doesn't remember how to do the first-year surgery either.
Was anyone else as disappointed as I was with Arizona this week? She's usually such a champion and role model, but the way she treats Jackson is just unfair. Jackson seems to be constantly thwarted every time he tries to prove himself and it's really deflating to see the older doctors taking the wind out of his sails.
What did you think of this week's episode? Did you sympathize with Karev? Are you feeling for frustrated April? Let's discuss in the comments!
Photo copyright 2011 ABC, Inc.