Grey's Anatomy Recap "Things We Said Today"
Grey's Anatomy Rundown, "Things We Said Today"
Grey's Anatomy is back from midseason hiatus this week, picking up exactly where we left off in December. Guests have gathered for Bailey's wedding, but she's stuck at the hospital operating on Adele, who's been rushed there with an aneurism. In the aftermath episode, the doctors are left to their own devices as they wait for the runaway bride, and by "own devices" I mean, in many cases, sex.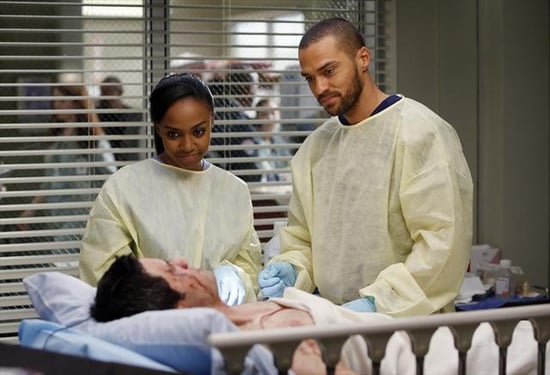 Callie and Arizona seize an opportunity for some hotel-room time, Jackson channels his inner Karev, and Karev himself gets even closer with Jo (or should I say "Hobo Jo"?). The episode isn't without its sad news, but on the bright side, we do finally get to see Bailey and Ben's first dance. Let's break it all down when you read more.
While the guests are waiting around for Bailey to get out of surgery, Arizona comes up with the idea to rent a hotel room for her and Callie for some much-needed sexy time. Unfortunately, they never get past first base because Arizona is still too insecure about her leg. She also admits that she's a little paranoid that Callie is going to leave her, especially after Callie confesses that she had told Bailey to run. However, Callie assures Arizona that she's not going anywhere, and they have a very sweet few hours together, complete with room service. And a TMI phone call to Derek from the bathroom.
Annoyed with the fact that they're stuck with each other as dates, Karev and Jo take to drinking and trading horror stories from their childhood. Jo earns the upper hand when she learns that she can make Karev believe just about everything — especially if she cries. The two then hilariously stage a fight, complete with tears, to finagle a free night at the hotel. I loved everything about these two in this episode, especially since Karev is finally enjoying someone's company without sleeping with them.
Speaking of sleeping with people, Shane is convinced that April is trying to get in his pants, while Stephanie considers hooking up with Jackson. Shane's paranoia comes to an awkward head when he calls April out on her actions and she firmly denies any "sexual harassment," but Stephanie's night takes a different turn. After some OR flirting, she and Jackson get it on in his car and, needless to say, miss Bailey's big day.
Thankfully, Bailey herself doesn't miss her wedding. She spends the day in the OR working on Adele and finally gets a visit from Ben. At first it seems like it's curtains for the couple, as Bailey confesses that she forgot about the wedding for a second and is afraid her ambition will get in the way of their relationship. But Ben adorably accepts her for all of her goals in life and says he wants to marry her even if they only get to spend five minutes together every month. Aww.
Sadly, there is a dark cloud over Bailey's happy day; when Meredith sees Webber at the reception, she strikes up a conversation about how Adele's doing. We all knew what he was about to say: Adele passed away after Bailey had left the hospital to head to her wedding. It's a bittersweet moment through and through, as Webber watches Bailey's first dance and reflects on his own wedding with Adele.
Cristina and Owen are among the few who don't make it to the wedding at all; instead, they hang back at the hospital to sleep together and ponder their relationship. Ultimately, Owen makes the decision that they should get a divorce since marriage ruined their relationship. They both sign the papers with tears rolling down their cheeks, but it's a hopeful moment, as they face their relationship together once again, but with smiles.