Grey's Anatomy Recap For "Thriller"
Grey's Anatomy Rundown: "Thriller"
It's Halloween on Grey's Anatomy, and things are getting campy but not in the good way. The doctors are opting to wear costumes for no reason, and the night's events coincidentally feature seemingly spooky patient cases. While I was hoping the Halloween special would light a proverbial fire under the season's butt and give me the old Grey's Anatomy excitement I've been missing, I was anything but thrilled by "Thriller."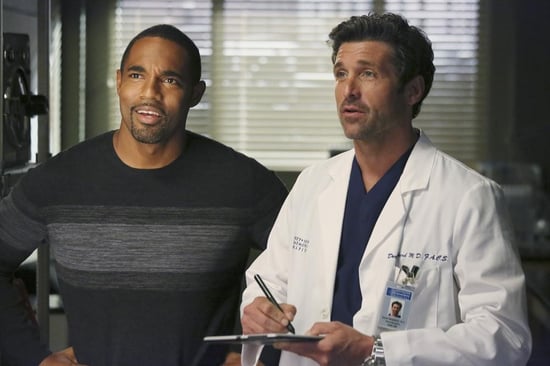 Find out about this week's supergross injuries, the latest in weird relationship developments, and the rest of the night's struggles after the jump.
Things have been weird since the minifight between Cristina and Meredith, where Cristina told Mer that she's slowing down and not pushing herself to succeed in medicine anymore. This week, Meredith halfheartedly invites Cristina to the little Halloween party she's throwing for the kids. Cristina shows up, hovers in the doorway a few seconds, and then leaves. The most interesting part is that she heads to Joe's bar for a drink and runs into Shane, who buys her a drink. Is anyone else getting flashbacks to the days of Cristina and Burke? Also, it's a little weird that Shane's dressed in costume for a night of drinking alone in the bar. Just putting that out there.
The hospital is suddenly crawling with Halloween-inspired patients. There's the man who thinks he's suffered from a zombie bite, the woman who has a badly infected bite (which is filled with maggots, much to my dismay), and the man whose organs somehow developed backwards in his body. Did I mention backwards-organ man is the one who bit zombie-bite guy? And that he also bites Leah? And leaves a tooth in her neck? And don't even get me started on the weird old woman with the glass eye who keeps asking for dead intern Heather Brooks.
In the opening scene of the episode, Arizona and Leah are sharing a bed. So, did they just sleep together? Or did they, you know, sleep together? Even though I can't totally say for sure, the fact that they were both topless should be a pretty good indicator. The cute moment comes at the end of the episode, though. Leah's getting tested to make sure the biter didn't give her HIV or Hepatitis, and Arizona gives her a sweet pep talk.
Remember that whole brain mapping thing Derek keeps talking about? Most of it's going over my head, but he seems pretty stoked when he suddenly has an idea. It seems to involve opening a fan under the patient's skull, which helps to prevent exposure, but still gets just as much of the needed coverage when mapping the brain. That's the most I could get from it. Look, I get that it's a medical show and medical things happen, but I'm really just watching for the juicy doctor drama.
Jo shows up and admits she screwed up, and Alex finally forgives her. It's sweet that they make up and all, but I'm really confused by the fact that Jo's wearing a Tinkerbell costume the whole time. I mean it's Halloween, sure, but I wouldn't call heading to your sort-of boyfriend's house to apologize a costume-appropriate situation. Or maybe it's just me.
At first, Bailey's so glad when Ben makes a surprise visit to Seattle. He makes Bailey's son Tuck a very happy trick-or-treater, but things take a turn for the worse when Ben tells Bailey he quit his program at UCLA and wants to move back. It's a tough call. Can Bailey really be mad that he wants to come back and focus on his family? Then again, is it right for him to give up on his dreams, especially when he's come so far?
How did you feel about the episode? Did you like the campy horror vibe, or is it just too cheesy?