Grey's Anatomy Season Finale Won't Be as Intense as Last Season
Chyler Leigh: The Grey's Anatomy Finale Is "Not Going to Be Like Last Season"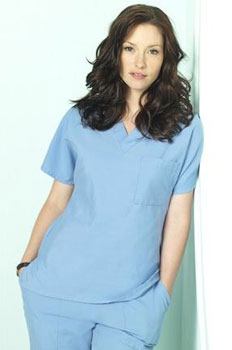 We're closing in on the home stretch of another season of Grey's Anatomy, but there's still plenty of excitement in store before Summer hiatus. Most notably is the upcoming musical event, where we'll get to hear our favorite surgeons belting out some of the show's most iconic songs from seasons past. I chatted this week with Chyler Leigh (aka Lexie) about how fun and nerve-wracking it was for her to film the episode, which airs on March 31. She also dished on Lexie's new relationship with Jackson and gave us a hint at what we can expect from the season finale.
BuzzSugar: What was your first reaction when you heard about the musical episode?
Chyler Leigh: Honestly, I thought it was a joke. It was kind of like our long-running joke that we had over the past few seasons, "Oh, yeah, when Grey's does a musical episode. . . it's gonna be us singing and dancing down the hall on gurneys..." I wasn't present at the table read where Shonda made the announcement that we were going to be doing it, so when everybody kind of approached me about it, saying "Hey, so what do you think about this whole thing?" I was kind of like, "Ha ha ha, that's funny, what are you talking about?" And they were like "No, seriously, we're actually doing it." I was like "What?!" It was a bit shocking at first. Shonda asked everybody, "Hey who's willing to sing? Who wants to try out? Who wants to for it?" and quite a few people raised their hands pretty emphatically that they were excited to do something like that. Several didn't, they didn't want to. But the majority of us actually did say "You know what? Let's just take the journey, take the ride, and see what happens." And we had a blast.
Buzz: Did you have any previous singing experience?
CL: No, not before this episode. I sang a couple lines when we did a group song in Not Another Teen Movie, but it was nothing like this. I never took lessons before this. It was a brand-new experience for me, but it was something that I was really excited about doing. Nervous at the same time, because I love singing, and my husband knows I sing, some close friends do as well, but I'd never really sung in front of a group of people, or to have it on a soundtrack or anything like that. It was definitely nerve-wracking at first. But I just decided, "You know what? How often are we going to get an opportunity and an experience like this? Just suck it up and go for it." And I did, and we all had so much fun doing it. It was hard work, but we had a lot of fun.
Buzz: Do you have a new found respect for the cast of Glee?
CL: Yes, absolutely. I can't imagine the amount of rehearsals that it involves. Kudos to them. Big props for sure.
To find out what song Chyler will sing in the episode, plus where Lexie and Jackson's relationship is headed, just
.
Buzz: Will there be dancing in addition to the singing?
CL: No, there's no dancing. Some of the songs you'll see us singing on camera, not necessarily directly to camera but you'll see some of it, and then some of it you'll just hear underneath a scene.
Buzz: Did you have any say in which song you'd be singing?
CL: I got to sing "Breathe (2AM)" by Anna Nalick, and then Sarah Drew and I sang the chorus while Sara [Ramirez] sang the verse on the song "Grace." Such a beautiful song. There's "Chasing Cars," "How to Save a Life." There's a lot of really great songs that the majority of us got to sing together. We had a lot of laughs while doing it.
Buzz: Let's talk about Lexie and Jackson. Will this relationship be more than a fling?
CL: Oh, for sure. In true Grey's style, it would be doing ourselves a disservice if we didn't stretch it out as much as possible. It's definitely something where the relationship between Lexie and Jackson is something that is, in a sense, refreshing, and is something that is new and exciting and doesn't necessarily have to be as heavy and as intense as the relationship between Lexie and Mark had gotten to. Lexie and Jackson are in the same place in their lives, they want the same things, they're pretty much in the same place in their career. They're good for one another. And there's so many reasons why it should definitely work out really well for the two of them. But at the same time, there is a history and there's a past and there is an undeniable love between Lexie and Mark. It's hard to squash something like that when it's grown so big. But at the same time, how many devastations can you go through? And do you have the strength to make it work? I think through the rest of the season and probably stretching into next season we'll have to see which way she goes.
If you were choosing for her, which guy would you choose?
CL: Oh that's such a hard question to answer. I'd say, screw it, take 'em both! Why not?
Do you find that you have better chemistry with Eric [Dane] or with Jesse [Williams]?
CL: Well, again, that's a really hard question to answer, just because the dynamic between me and Eric and me and Jesse is so different. They're both such wonderful people. Jesse and I definitely get into trouble a lot more together, because we're usually making each other laugh or terrorizing one another, and we get in trouble for laughing and making too much noise. And so there is that dynamic, he and I have a very similar sense of humor, so that does come into play a lot. We're kind of like the troublesome twosome.
Buzz: Are you afraid of reading the script for the season finale after last year's intense finale?
CL: From what we've been told, and I genuinely do not know the storylines of what's happening in the finale, it's not going to be like last season. I don't think it's going to be as intense and traumatic as last season, by any means. I think it's going to be more a personal devastation than an actual physical one.
Photo copyright 2011 ABC, Inc.