The Grey DVD
What to Rent: New DVDs This Week
In addition to the following releases, Rampart, The Devil Inside, and Chronicle are also available.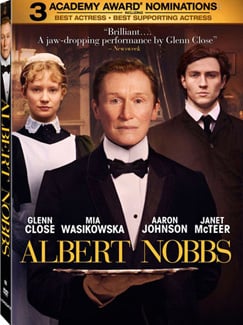 Glenn Close scored an Oscar nomination for her portrayal of a woman posing as a man in 19th century Ireland. Forced to assume the dress and mannerisms of a man to secure a job as a butler in order to survive in the oppressive times, Albert finds his arrangement shaken up by the arrival of a stranger with a secret (Janet McTeer) and her involvement with her fellow servants (played by Mia Wasikowska and Aaron Johnson). Deleted scenes and commentary by director Rodrigo Garcia and Glenn Close are included with the DVD.
55%
Katherine Heigl is Stephanie Plum, card-carrying Jersey girl and badass, in the film adaptation of Janet Evanovich's popular murder mystery series. Out-of-work Plum gets a gig working for her cousin as a bail bondswoman, and despite her lack of experience, she's got a knack for hunting down perps. Her biggest challenge is whether to get back with her momentary high school sweetheart, Joe Morelli, or give in to a fellow recovery agent's charms. Extras include featurettes and a gag reel.
2%
One more release when you
.
It's Liam Neeson vs. the wild in this grim thriller. Neeson's character Ottway is already battling suicidal thoughts when his plane crashes in a remote part of Alaskan wilderness. Now, he must not only find a way to avoid catching hypothermia, but protect his friends from a pack of wolves hungry for a snack. As the film progresses, it becomes clearer that battling with the wolves is an easier fight than battling with one another. DVD extras include commentary by director Joe Carnahan and deleted scenes.

78%