Guillermo del Toro Don't Be Afraid of the Dark Interview
Guillermo del Toro Believes "Very, Very Strongly" in Don't Be Afraid of the Dark
Guillermo del Toro is the force behind this weekend's Don't Be Afraid of the Dark, and he recently spoke about his involvement with the Katie Holmes and Guy Pearce film during a NYC press day. Troy Nixey directed the scary movie, with del Toro operating behind the scenes as a producer and "presenter." Del Toro discussed what his duties included and how he stuck to his original vision for the picture. He also revealed his favorite movies, admiration for the young actress Bailee Madison, and how he thinks perpetuating the weak-females-in-horror-movies cliche is immoral.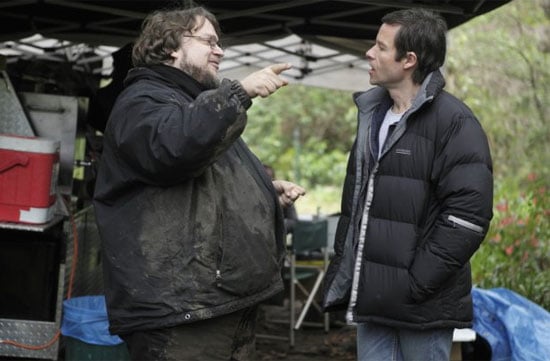 On their film having an R rating despite little sex or profanity: "We shot the movie carefully — no profanity, no sex — and it's not graphic at all. There's not a single moment when you see anything gory, but when we asked the MPA, 'What would it need to change?' they said, 'The whole movie. It's too intense . . . it's intensity with a child.' And frankly, at that point, they said something really nice! They said, 'Why ruin a perfectly good R-rated movie?' Which I thought was very nice coming from them. So we wore it as a badge of honor."
On working with Bailee: "I think the term 'child actor' is a mistake. They're either actors, or they're not; whatever they are, at any age. If a kid is a real actor, he's a thrill."
On attaching his name to a movie, despite not directing it: "I only presented three movies, one in Spain and The Orphanage internationally, and this is the third time. I only do it when — (a) I am introducing a filmmaker to the world, but (b) I endorse and say I believe in this movie very, very strongly. For whatever reason, it's a more risky proposition in one way, but it's one that I believe needs to continue to support first-time filmmakers. . . . I only do it when I fully believe I was involved in the product in a way that is meaningful."
On his favorite movies: "When DVDs came out I made a solemn promise to my wife that I'm just going to get my 10 favorite movies — which are really 7,000 movies. But instinctively, which may change tomorrow, I'd say Frankenstein, Bride of Frankenstein, Erich von Stroheim's Greed, Charlie Chaplin's City Lights, Taxi Driver, Blade Runner, Beauty and the Beast. It's almost impossible to make this list. I'd say all Chaplin and Hitchcock . . . it's impossible. It's a horrible dilemma."
To read what Guillermo said about the movie's 10-year development period, the importance of storytelling, and female protagonists in horror films, just
.
On what happened to his film after a long period of development: "I left [the movie] at a dimension exactly where I thought it was ready, after a couple of drafts. And then 10 years later, they had done every permutation with every director — the creatures became giant bugs that impregnated woman and took them to the caves! I went back and recuperated the draft exactly where I left it, and that's the movie we shot. . . . We avoided a lot of the cliche that would have happened had it gone [the studio's way]. Certainly the ending is not what you expect from a major movie where every character is going to be running away from a ball of fire or jumping into the pool or something."
On his love of a good story: "I think it is primordial. I think I've been quoted many, many times over many, many years, talking about storytelling, which I think is a primal function of the higher human being. The thing that scares me the most is that we live in a reality TV world that we raise everything to the most materialistic, brutally, merciless level of materialism that is really, really revolting, because if that's all we are then I want to get out of the show, frankly."
On making movies with female protagonists: "I think that the genre of horror, if you go with the scream queen mentality, you create victims. But some of the greatest female roles go to great actresses in horror. I think of Mia Farrow in Rosemary's Baby — an incredible, compelling role that any actress should be super happy to do. Or think about Nicole Kidman in The Others and Belen Rueda in The Orphanage. I think the genre can create some of the best, most powerful female roles ever for any actor. In our society, to reinforce the horror films that just create victims, create female characters that are waiting to be rescued, really, really to me [are] almost immoral and all the movies I can be involved in, in any of them, even the most commercial ones, I carefully try to avoid re-creating weak, rescue-able female characters."